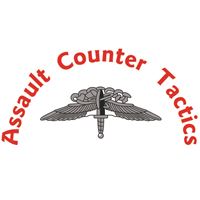 Advance Realistic Self Defense
Taking Realistic Self Defense to the next level
Duration: 6 hours
Fee: $125.00
Type(s): Advanced, Basic, Intermediate, Rifle, Scenario Based Training
Instructor: Assault Counter tactics - Paul Pawela View Bio
Description
This class is a high intense adrenaline shoot/don't shoot course designed specifically for shooting under high duress.
Documentation Requirements
none needed
Requirements
You must of taken Realistic Self Defense course perviously.

equipment needed:  Handgun, holster, extra magazine, magazine holder,  300 and gun rounds, 100 Rifle or PPC.  Wear sneakers and a belt. 
Topics Covered
Topics Discussed: Wounded arm one hand racking and getting the gun into operation in a gun fight, Moving and shooting in between people and how to safely do it, shooting/no shooting while moving and holding on to a loved one while you're doing it, low light/ no light shooting,different positions of shooting at different angels, all will be done with hand gun and AR- Pistol
Expectations and Outcomes
By the end of the course the student will feel more comfortable carrying a gund
Upcoming Classes
There are no upcoming classes scheduled for this course.