Defensive Bravo
Jason Gouffray
BACKGROUND: Civilian, Instructor
2 Years Instructing
PH: 817 980 2492
Available Courses
Next Class
Course
Type
Difficulty

Next class: Dec 1


See Classes
Advanced 2 person Instruction
2 person training for Advanced students
Advanced, CCW, Rifle, In Home Defense Training, Scenario Based Training, Women's Only Courses, Specialty Other

Advanced

Next class: Dec 2


See Classes
Advanced Individual Instruction
Advanced personalized one on one trainin…
Advanced, CCW, Rifle, In Home Defense Training, Scenario Based Training, Women's Only Courses, Specialty Other

Advanced

Next class: Jan 8


See Classes
Beginners Pistol
2-4 person training for those with littl…
Basic, Women's Only Courses

Basic

Next class: Dec 4


See Classes
Beginners Rifle (AR15)
2-4 person training for those with littl…
Basic, Rifle, Women's Only Courses

Basic

Next class: Nov 30


See Classes
Intermediate 2 person Instruction
2 person training for Basic to Intermedi…
Intermediate, CCW, Rifle, In Home Defense Training, Scenario Based Training, Women's Only Courses, Specialty Other

Intermediate

Next class: Nov 29


See Classes
Intermediate Individual Instruction
personalized one on one training for int…
Intermediate, CCW, Rifle, In Home Defense Training, Scenario Based Training, Women's Only Courses, Specialty Other

Intermediate
About Defensive Bravo
Founder and Chief Instructor of Defensive Bravo, Jason Gouffray, started his firearms journey as a young boy.  Firearms introduction came courtesy of his veteran of Vietnam grandfather.  However, it wasnt until some years later, after being gifted his first AR from his father in law that he began the lifelong road of firearms training and eventually, instruction.  Eager to learn how to operate effectively with his new weapon and other platforms, he enrolled in a private firearms training academy during the tumultuous year of 2020.  There, he learned how to operate "like the pros" as the basis of that training was the foundations of United States Marine Corps Special Operations methodologies.  MARSOC (AKA "The Raiders") training was not only in various platforms, but also the mindset to "survive the chaos" of a firefight; how to operate under stress effectively.  This experience was life changing to say the least.  In 2021, Jason received the National Rifle Association's Pistol Instructor Certification and formed his company, Defensive Bravo.  Through the curation of techniques, skills, and tactics from professional operators, law enforcement officers, military special operations, and other government agencies from around the world, you can train like a pro with Defensive Bravo.  
Courses Taught
CCW, Basic, Intermediate, Advanced, Rifle, Shotgun, NRA Courses, In Home Defense Training, Scenario Based Training, Women's Only Courses
Class Instructors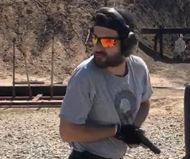 Jason Gouffray
Jason "Chief" Gouffray is the founder and Chief Instructor of Defensive Bravo.This father and husband turned full civilian sheepdog is ready to teach from the beginner to the advanced student on how you too can join the pack and learn the ways of the civilian defenders we lovingly call sheepdogs.
Certifications
National Rifle Association Certified Pistol Instructor
American College of Surgeons Committee On Trauma "Stop The Bleed" Certified
MedStar Mobile Healthcare "Hands Only CPR" Certified
U.S. Law Shield and Dr. Rick Hammesfahr M.D. "Gunshot Wound First Aid" Certified
Policies
Cancellation Policy
Course cancellations are handled on a case by case basis and must be communicated clearly to the instructor with 48 hours notice for rescheduling or refunds to be possible.
Reschedule Policy
Notice of a request to reschedule must be received by the instructor at a minimum of 48 hours from the start time of the originally scheduled class.  Rescheduling requests can not be guaranteed even if received in a timely manner due to potentially previously scheduled classes.  Make sure you can make the time you book, or it may be difficult to rebook.  I will work with you, but can not be in 2 places at one time.  
Refund Policy
Refunds are handled on a case by case basis and at the sole discretion of Defensive Bravo LLC.  Timely manner (48 hour notice) reschedules and cancellations are eligible, but not guaranteed, for refund.  
Other Policy
If at anytime in the course of instruction the instructor feels the student can not or will not continue in a safe manner, or is not performing to the proper standards of etiquette and performance, as will be outlined during the first class with a new student, then the instructor can and will stop the class and the student will lose any chance at a refund and potential prohibiting of future training with Defensive Bravo LLC.  Unsafe practices and lack of performance will not be tolerated.  
Waiver
RELEASE OF LIABILITY
READ CAREFULLY - THIS AFFECTS YOUR LEGAL RIGHTS
In exchange for participation in the activity of Firearms and Defense Training organized by Defensive Bravo, LLC., of 5344 Barley Drive, Fort Worth, Texas, 76179 and/or use of the property, facilities and services of Defensive Bravo, LLC., I, _________________, of _________________, _________________, _________________ _________________, agree for myself and (if applicable) for the members of my family, to the following:
1. AGREEMENT TO FOLLOW DIRECTIONS. I agree to observe and obey all posted rules and warnings, and further agree to follow any oral instructions or directions given by Defensive Bravo, LLC., or the employees, representatives or agents of Defensive Bravo, LLC..
2. ASSUMPTION OF THE RISKS AND RELEASE. I recognize that there are certain inherent risks associated with the above described activity and I assume full responsibility for personal injury to myself and (if applicable) my family members, and further release and discharge Defensive Bravo, LLC. for injury, loss or damage arising out of my or my family's use of or presence upon the facilities of Defensive Bravo, LLC., whether caused by the fault of myself, my family, Defensive Bravo, LLC. or other third parties.
3. INDEMNIFICATION. I agree to indemnify and defend Defensive Bravo, LLC. against all claims, causes of action, damages, judgments, costs or expenses, including attorney fees and other litigation costs, which may in any way arise from my or my family's use of or presence upon the facilities of Defensive Bravo, LLC..
4. FEES. I agree to pay for all damages to the facilities of Defensive Bravo, LLC. caused by any negligent, reckless, or willful actions by me or my family.
5. APPLICABLE LAW. Any legal or equitable claim that may arise from participation in the above shall be resolved under Texas law.
6. NO DURESS. I agree and acknowledge that I am under no pressure or duress to sign this Agreement and that I have been given a reasonable opportunity to review it before signing. I further agree and acknowledge that I am free to have my own legal counsel review this Agreement if I so desire. I further agree and acknowledge that Defensive Bravo, LLC. has offered to refund any fees I have paid to use its facilities if I choose not to sign this Agreement.
7. ARM'S LENGTH AGREEMENT. This Agreement and each of its terms are the product of an arm's length negotiation between the Parties. In the event any ambiguity is found to exist in the interpretation of this Agreement, or any of its provisions, the Parties, and each of them, explicitly reject the application of any legal or equitable rule of interpretation which would lead to a construction either "for" or "against" a particular party based upon their status as the drafter of a specific term, language, or provision giving rise to such ambiguity.
8. ENFORCEABILITY. The invalidity or unenforceability of any provision of this Agreement, whether standing alone or as applied to a particular occurrence or circumstance, shall not affect the validity or enforceability of any other provision of this Agreement or of any other applications of such provision, as the case may be, and such invalid or unenforceable provision shall be deemed not to be a part of this Agreement.
9. EMERGENCY CONTACT. In case of an emergency, please call _________________ (Relationship: _________________) at _________________ (Day), or _________________ (Evening).
I HAVE READ THIS DOCUMENT AND UNDERSTAND IT. I FURTHER UNDERSTAND THAT BY SIGNING THIS RELEASE, I VOLUNTARILY SURRENDER CERTAIN LEGAL RIGHTS.
By: ___________________________________ Date: __________________ _________________
Frequently Asked Questions
Ammo provided? No, Ammo is the sole responsibility of the student.  The range has some, but bring what you need.  50 rounds per hour of instruction.
Gun rentals available? Yes, at no cost to you.  All Defensive Bravo students receive free gun rentals during class.  Ammo not included.