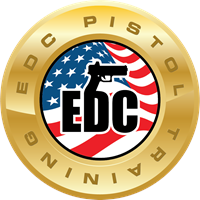 Care Under Fire
Duration: 8 hours range time
Fee: $300.00
Type(s): Advanced, Intermediate, Active Shooter Response Training, Scenario Based Training, Scenario Based Training (Simunitions, Man Marking Cartridge), Tactical Casualty Care (TCCC / TECC)
Instructor: EDC Pistol Training LLC - Karim Manassa View Bio
Description
This is an 8 hour high stress, hands on, live fire & Force on Force Tactical Combat Casualty Care (TCCC) course for EDC Civilians and Law Enforcement.
Documentation Requirements
I'm a U.S. Citizen or U.S. Permanent Resident.
I'm licensed to legally conceal carry a firearm.
I'm not a registered sexual offender with any state.
I have not been convicted of domestic violence in any state.
I'm able to demonstrate and employ safe weapons handling during courses of fire.
Safety risks resulting from arriving to class with the wrong holster as described in the Gear Checklist, and/or failing to disclose physical/mental/medical limitations will result in dismissal without a refund.
The instructor requires a copy of your CCW permit once you register.
Requirements
300 rounds quality FMJ or JHP practice ammunition (9mm, .40 S&W, .45 ACP, .357 Sig, or .380 Auto)
Wear only your actual concealed carry kit and casual clothing (closed toed shoes)
No SERPA, Nylon, Hybrid, or minimalist trigger guard holsters
Ballistic rated eye protection (MIL SPEC 32432 & ANSI Z87.1)
Electronic ear protection
Light lunch, snacks, and minimum 1 gallon of fluid
Sunscreen, mosquito repellent, personal first aid kit, notepad and pen
Baby wipes and change of clothes
Expectations and Outcomes
The class will help you understand and implement necessary life saving skills needed for you and others to survive in an active shooter situation.  The training will teach you how to care for yourself if you are injured as well as to care for other casualties.
Note this is not a sterile classroom setting.  The entire course is conducted at the range, under fire, and with authentic sanitized medical training assets.
Upcoming Classes
There are no upcoming classes scheduled for this course.