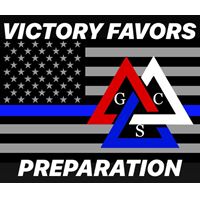 Contact Threat Mitigation
Up close weapon manipulation
Duration: 8 hours
Fee: $225.00
Type(s): Advanced, Instructor Training Courses, LEO / MIL / SEC Courses
Instructor: GCS Training GROUP - Jason Paletta View Bio
Description
Though it's important to practice at farther distances, FBI statistics bring gunfighting at much closer distances. Approximately 90% of gunfights occur at contact within 15 feet, and approximately 40% of those were in contact at just 3 feet. This course focuses on quickly clearing your holster and effectively delivering combat effective hits using alternate sighting methods and getting off the line of attack at those close distances.



Prerequisites: Pistol 1 or equivalent course from a reputable instructor.

Documentation Requirements
Driver License
or
Govt. ID
The instructor requires a copy of your driver's license once you register.
Requirements
Equipment List:

Handgun (9mm, .40, .45)
3 magazines
Magazine pouches
Holster (Strong side)
Round count: 500
Topics Covered
Alternate sighting methods
Shooting from retention
Contact shots
Trapping the slide
Upcoming Classes
There are no upcoming classes scheduled for this course.