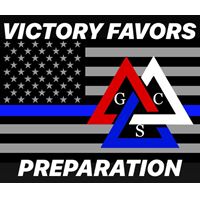 Combative Pistol
Malfunction clearance (two hand, one handed)
Duration: 8 hours
Fee: $225.00
Type(s): Advanced, CCW, LEO / MIL / SEC Courses
Instructor: GCS Training GROUP - Jason Paletta View Bio
Description
This is a one-day course that will push the student in problem-solving with their handgun. It brings home the importance of one-handed pistol manipulation utilizing strong side and support side while engaging single and multiple targets. The student will leave the course with an understanding of gear placement and what works in unconventional shooting situations.

This course consists of a physical challenge to emulate fatigue and focuses on being able to fight through it to win the fight.

Prerequisites: Pistol 1 or similar course from a reputable instructor

Equipment List:

Handgun
Holster
3 magazines
Magazine pouches
Round count: 300-500
Documentation Requirements
Driver License
or
Govt. ID
The instructor requires a copy of your driver's license once you register.
Requirements
Equipment List:

Handgun
Holster
3 magazines 
Magazine pouches
Round count: 300-500
Topics Covered
Clearing type 1,2 and 3 malfunctions simulating injury
Two handed
Strong side only
Support side ony

Focuses on simplicity and Efficiency of getting your weapon system back in the fight when faced with loosing the ability of using both hands.
Upcoming Classes
There are no upcoming classes scheduled for this course.