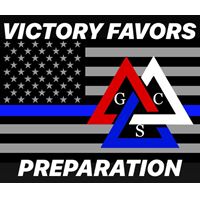 Intro to Carbine
Basic class for beginners
Duration: 8 hours
Fee: $225.00
Type(s): Basic, Rifle
Instructor: GCS Training GROUP - Jason Paletta View Bio
Description
This is a one-day carbine course that will introduce you to the basic fundamentals of weapons handling to include assembly/disassembly, loading/unloading, clearing malfunctions, and marksmanship.

Equipment Needed:

Carbine
3 Mags
Mag pouches
Round count: 300
Documentation Requirements
Driver License
or
Govt. ID
The instructor requires a copy of your driver's license once you register.
Requirements
Equipment Needed:

Carbine
3 Mags
Mag pouches
Round count: 300

Course Requirements
U.S Citizen or ITAR Approved Person

Bring appropriate I.D.
Personal Protection Equipment

Eye & Ear Protection, Knee & Elbow Pads, Body Armor & Helmet, No open Shoes, etc…
Be Weather Prepared

Bring Food, Water, & Sunscreen
Note-taking Materials

Notepad, Pencil, Pen, etc…
Be Positive & Open Minded

This is a learning environment that requires correcting
Topics Covered
Assembly/disassembly, loading/unloading, clearing malfunctions, and marksmanship as well as the three pillars of gunfighting.
Expectations and Outcomes
Students will gain a better understanding of how the weapon system functions, how to disassemble/reassemble, clearing malfunctions and marksmanship fundamentals.

Students will leave with a zeroed rifle and the confidence of how 
Upcoming Classes
There are no upcoming classes scheduled for this course.