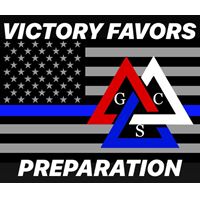 Vehicle Dynamics
Develop your skills from in and around a vehicle
Duration: 8 hours
Fee: $225.00
Type(s): Advanced, LEO / MIL / SEC Courses, Rifle
Instructor: GCS Training GROUP - Jason Paletta View Bio
Description
With the majority of your time spent in a vehicle, we have found it important to focus on fighting from in and around the vehicle. This class will cover the exterior and interior of the vehicle to include what is cover and what can be used for concealment.
During this course, students will learn how to safely and effectively deploy their weapon systems from inside the vehicle to include rapidly removing seatbelts and fighting their way to a better vantage point all while maintaining the basic fundamentals of marksmanship and focusing on the importance of mindset.

Prerequisites: Pistol 1 or equivalent course from a reputable instructor.

Equipment List:

Handgun with holster
3 Magazines and Magazine pouches
Round count: 300-500
Documentation Requirements
Driver License
or
Govt. ID
The instructor requires a copy of your driver's license once you register.
Requirements
Equipment List:

Handgun with holster
3 Magazines and Magazine pouches
Round count: 300-500
U.S Citizen or ITAR Approved Person

Bring appropriate I.D.
Personal Protection Equipment

Eye & Ear Protection, Knee & Elbow Pads, Body Armor & Helmet, No open Shoes, etc…
Be Weather Prepared

Bring Food, Water, & Sunscreen
Note-taking Materials

Notepad, Pencil, Pen, etc…
Be Positive & Open Minded

This is a learning environment that requires correcting
Topics Covered
Deploying your weapon from inside of a vehicle

Shooting from inside the vehicle to include through windows/windshield

Egressing from the interior of the vehicle

What is cover and what is concealment

Alternate shooting positions

Expectations and Outcomes
At the conclusion of the course the student will gain confidence and competence when safely working around a vehicle.
Upcoming Classes
There are no upcoming classes scheduled for this course.