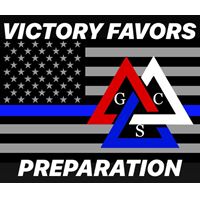 Low Light Pistol Fundamentals
Learn how to utilize lighting systems while shooting
Duration: 8 hours
Fee: $225.00
Type(s): Intermediate, LEO / MIL / SEC Courses, Rifle
Instructor: GCS Training GROUP - Jason Paletta View Bio
Description
This course will teach and introduce students to the following:

– why lowlight training is important, its applications/implications, and how the human body operates in low light environments.

– equipment considerations in regards to pistol sights, weapon lights, and handheld lights.

– proper handheld and weapon mounted light use and technique.

– techniques for searching and identifying threats.
Documentation Requirements
Driver License
or
Govt. ID
The instructor requires a copy of your driver's license once you register.
Requirements

U.S Citizen or ITAR Approved Person

Bring appropriate I.D.
Personal Protection Equipment

Eye & Ear Protection, Knee & Elbow Pads, Body Armor & Helmet, No open Shoes, etc…
Be Weather Prepared

Bring Food, Water, & Sunscreen
Note-taking Materials

Notepad, Pencil, Pen, etc…
Be Positive & Open Minded

This is a learning environment that requires correcting
Topics Covered
Why lowlight training is important
Its applications/implications
How the human body operates in low light environments.
Expectations and Outcomes
Students will leave with a better understanding of how to utilize handheld lighting systems and Weapon Mounted Lights while engaging threats as well as how dimished lighting has an affect on the shooter.
Upcoming Classes
There are no upcoming classes scheduled for this course.