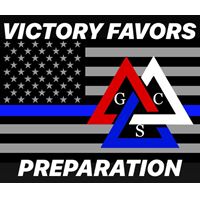 Concealed Carry Applications
For CCW or plain clothes officers running concealed
Duration: 8 hours
Fee: $225.00
Type(s): CCW, LEO / MIL / SEC Courses
Instructor: GCS Training GROUP - Jason Paletta View Bio
Description
In this course, the student will gain the knowledge and skills necessary to carry concealed as well as gear placement and everyday carry items. This course will provide information on pros and cons of carrying positions and drawing techniques under those stressful situations. By the end of this course, the students will effectively be able to draw from concealment, as well as place effective rounds on target. If your new to or have experience carrying concealed, this course is for you.

Equipment Needed:

Handgun
Holster (Oustside waistband, Inside waistband only)
NO SHOULDER HOLSTERS
3 Magazines
Pistol- 400 rnds
Ear/eye protection
Documentation Requirements
Driver License
or
Govt. ID
The instructor requires a copy of your driver's license once you register.
Requirements
Handgun
Holster (Oustside waistband, Inside waistband only)
NO SHOULDER HOLSTERS
3 Magazines
Pistol- 400 rnds
Ear/eye protection

U.S Citizen or ITAR Approved Person

Bring appropriate I.D.
Personal Protection Equipment

Eye & Ear Protection, Knee & Elbow Pads, Body Armor & Helmet, No open Shoes, etc…
Be Weather Prepared

Bring Food, Water, & Sunscreen
Note-taking Materials

Notepad, Pencil, Pen, etc…
Be Positive & Open Minded

This is a learning environment that requires correcting
Topics Covered
Gear overview (Holsters, Mag pouches, ect...)
Where to carry concealed
Drawing from concealed
Malfunctions
Threat Positive Identification (PID)
Reloading from concealment
Expectations and Outcomes
Students will gain the knowledge of what will work for them and their body style in regards to equipment and placement as well as becoming comfortable drawing from concealment with differenct techniques to include working malfunctions. 
Upcoming Classes
There are no upcoming classes scheduled for this course.