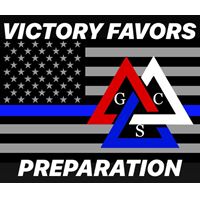 Carbine Manipulation
Basic skills to effectively run your carbine
Duration: 16 hours
Fee: $450.00
Type(s): Basic, Intermediate, LEO / MIL / SEC Courses, Rifle
Instructor: GCS Training GROUP - Jason Paletta View Bio
Description
The Basic Carbine course will teach the three pillars of gunfighting, weapon manipulation, marksmanship, and mindset. During this course you will learn the importance of gear placement, movement, use of cover, shooting positions and multiple target engagement. This course is for the new carbine handlers as well as for seasoned shooters looking to bring it back to the basics. It is a two-day course.

Equipment Needed:

Carbine with Sling
Holsters (Handgun)
3 Magazines (Handgun/Carbine)
Mag pouches (Handgun/Carbine)
Round count: 800(Carbine) & 100(Handgun)
Documentation Requirements
Driver License
or
Govt. ID
The instructor requires a copy of your driver's license once you register.
Requirements
Carbine with Sling
Holsters (Handgun)
3 Magazines (Handgun/Carbine)
Mag pouches (Handgun/Carbine)
Round count: 800(Carbine) & 100(Handgun)


U.S Citizen or ITAR Approved Person

Bring appropriate I.D.
Personal Protection Equipment

Eye & Ear Protection, Knee & Elbow Pads, Body Armor & Helmet, No open Shoes, etc…
Be Weather Prepared

Bring Food, Water, & Sunscreen
Note-taking Materials

Notepad, Pencil, Pen, etc…
Be Positive & Open Minded

This is a learning environment that requires correcting
Topics Covered
How the weapon functions
Three Pillars of Gunfighting
Malfunctions
Loading/Unloading
Transitions to Handgun
Mindset
Moving and shooting
Multiple target engagement
Expectations and Outcomes
At the end of the 16 hours, the student will have a better understanding of how to effectively run their carbine to include loading/unloading, clearing malfunctions, transitioning to handgun and when, the mindset being gunfighting and multiple target engagements.
Upcoming Classes
There are no upcoming classes scheduled for this course.