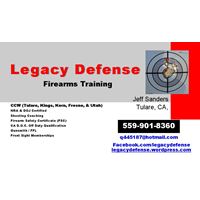 Tulare, Kings CCW (Renewal)
Duration: Classroom is 4 hours, range time will be scheduled separately, I recommend purchasing an additional hour for $25 while you are at the range to maximize your time there. Utah addon available at the bottom, adds 9 states to your CA permit INCLUDING NEVADA
Fee: $80.00
Type(s): CCW
Instructor: Legacy Defense - Jeff Sanders View Bio
Description
You must qualify with all firearms that will be listed on your permit.  Check with YOUR county as to how many you can have.

First 2 guns included, every additional gun is an additional $5 (paid at the time of qualification)

Women only classes available upon request.
Requirements
For the classroom - Note taking material

For the range - Eyes, electronic ears, 50 rounds of appropriate ammunition, a HARD plastic owb holster and a sturdy belt, no pocket holsters, soft (Uncle Mike's type), or Blackhawk Serpa holsters.  No low cut shirts (crew neck is what you want so hot brass doesn't go down your shirt).
Topics Covered
The topics required by your county and more.
Expectations and Outcomes
You will be certified in your county of residence at the conclusion of this training and will have a certificate to present with your application.
Upcoming Classes
There are no upcoming classes scheduled for this course.