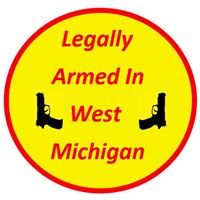 Concealed Pistol Licensing class
All you need to apply for your CPL
Duration: 5 Hours Classroom, 3 Hours hands on
There are no upcoming classes scheduled for this course.
Description
Who may take the class?
Anyone 18 years of age or older. You do, however, have to be 21 to obtain your CPL. It is more fun with a friend or family member and we will have some fun.
What is this class?
This is an 8 hour class which satisfies all training requirements as outlined in section 5j of 1927 PA 372 for first time CPL applicants or renewal of an existing or expired concealed pistol license. This is the Michigan Coalition for Responsible Gun Owners course and includes live fire of firearms at the end of the class.  A completion certificate is awarded upon successful completion of the class. 
Evening classes are held on three evenings, one evening each week, beginning at 6:00 PM. You must attend all 3 sessions to obtain your certificate.
All day, one day classes are completed in one day, typically Saturdays from 9AM - 5:30PM.
Where is the class held? The classroom portion is held at 7381 Ardith Ct SW, Byron Center, MI 49315. The range portion will be at a nice, indoor range, Centershot Gun Range, Dorr, MI, or, weather permitting, at Barry County Conservation Club as available.
What is the cost?
The course fee is $99.00 if pre-paid, $169.00 if paid on the day of the class. Please remember that class size is limited to the first 8 that pre-register.  Call us at 616-648-1794  or e-mail laiwestmi@gmail.com with any questions you may have.
Why would I take this class? 
You may take the class as a prerequisite for obtaining your Concealed Pistol License (which also allows you to possess and carry a civilian taser, to renew your expired CPL or as a means to simply learn more about how to protect yourself and your loved ones in your home.
May I bring my own pistol to the range?
Yes, properly cased and no ammunition in the case. Also bring 100 rounds of factory (no re-loads ) ammunition in the original box that it came in. Your firearm is to remain in your vehicle until we get to the practice range.
Do I have to have my own pistol?
No, pistols are available to rent for $20 dollars, which includes ammunition for the practice range and cleaning them afterwards. We actually recommend not purchasing a firearm prior to the class, as we will cover purchasing during the class.
May I borrow a pistol and bring it to class? 
NO! Only CPL holders may be in possession of a pistol other than their own in Michigan. Borrowing a pistol puts you at risk of a felony and confiscation of that pistol.
How long does the class last? 
Approximately 8 hours, depending on class size. Class begins promptly at the scheduled time.
What does the class consist of?
Approximately 5 hours of indoor classroom time including firearm safety, personal defense techniques, firearms law and more. The rest of the time will be spent on a practice range.
What should I wear?
Loose fitting, weather appropriate, casual clothing.
Can we bring snacks into the classroom?
Yes, but no food or drink onto the firing range.
What To Bring To Class:
2 pens
Notebook
Hearing Protection, plugs or muffs
Eye protection (If you wear glasses that is sufficient)

100 rounds of ammunition if you are using your own firearm.
Wear loose, comfortable clothing (Jeans and sweatshirt or t-shirt would be ideal

No live ammunition is allowed in the classroom.
Topics Covered
The following topics are covered in the class:
- Safe storage and handling of a pistol with emphasis on child safety.
- Ammunition knowledge and fundamentals of pistol shooting.
- Pistol shooting positions.
- Firearms and the law including civil liabilities and the use of deadly force.
- Avoiding criminal attack and controlling a violent confrontation.
- An overview of laws that apply to carrying a concealed pistol in Michigan.
- Other topics such as the history of CCW, State to State reciprocity and methods of carry.
Expectations and Outcomes
Upon successful completion of ther class you will receive, by mail. a certificate as required to apply for your Concealed Pistol License.
Documentation Requirements
The instructor requires a copy of your driver's license once you register.
Requirements
2 pens
Notebook
Hearing Protection, plugs or muffs
Eye protection (If you wear glasses that is sufficient)