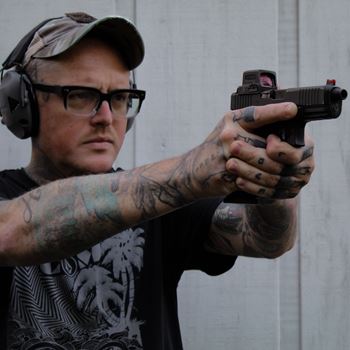 NAF Defense LLC
Nicolas Froelich
BACKGROUND: Civilian, Instructor
1 Year Instructing
PH: 321 978 6569
About NAF Defense LLC
NAF Defense LLC strives to provide education and skills to those who wish to protect life. 
Courses Taught
CCW, Basic, Intermediate, Advanced
Certifications
NRA Pistol Instructor
Policies
Cancellation Policy
No cancellations at this time. We can only offer to reschedule you for a future date. 
Reschedule Policy
If you need to reschedule your class, please feel free to email or contact via phone at least 48 hours in advance and we will get you rescheduled to the next class date you're registered for.
Refund Policy
No refunds at this time. If you miss a class you have registered and paid for, we can re-book you for that next scheduled class but there will be a $25 re-booking fee.
Waiver
Acknowledgment of Risk Agreement
I EXPRESSLY AGREE to accept and assume all risks during and after any training from NAF Defense LLC and its instructors.

I HEREBY ACKNOWLEDGE that I have voluntarily agreed to engage in shooting and to observe shooting activities. I further acknowledge and understand that "shooting activities" are potentially dangerous and have unknown risks, which could result in damage or destruction to my property or property of others, and physical injury or emotional damage, including partial or total loss of eyesight or hearing, paralysis, or death. The risks include, by way of example and not limited to being shot, whether by myself or others; inhalation of or contact with lead, brass, gunpowder, cleaning solvents, and other contaminants, and being struck by flying or falling objects. I understand that such risks cannot be eliminated without compromising the essential qualities of shooting, and so I accept those risks and the consequences in return for being allowed to attend classes and training with NAF Defense LLC.

I FURTHER ACKNOWLEDGE AND UNDERSTAND that the nature and condition of the provided range and other facilities, premises and environment is such that both known and unanticipated risks and hazards exist, which create or contribute to both known and unanticipated risks.

I UNDERSTAND that NAF Defense LLC, its instructors, or any volunteers have NO duty to administer first aid or medical in the event any injury occurs, and that any such operations or procedures may result in compounded or increased damages or injuries.

I FURTHER ACKNOWLEDGE AND UNDERSTAND that NAF Defense LLC, its instructors, or volunteers make NO representation to maintenance, condition or fitness for any infrastructure or items at any of the facilities used for classes & training; including, but not limited to classrooms, restrooms, doors, range, firearms, ammunition, eye or hearing protection, and first aid supplies.

I AGREE NOT TO SUE, AND I RELEASE, FOREVER DISCHARGE, HOLD HARMLESS NAF Defense LLC, its instructors, volunteers, owners of the property where the classroom and/or range is located, and each of their representatives from and against any and all present and future liabilities, obligations, damages, losses, claims, costs or expenses of any kind whatsoever that may be made by me, my family, estate, heirs, guardians, or representatives for property damage, personal injury or death arising as a result of attending a course from NAF Defense LLC.

I UNDERSTAND that amateur or professional photography or videography may occur during my presence at a course from NAF Defense LLC, or on the range facilities used during such a time and that I may be incidentally included in such photography or videography. I hereby grant NAF Defense LLC the right to use my images in the promotion of courses and training.

I FURTHER ACKNOWLEDGE AND AGREE that this agreement is intended to be as broad and inclusive as permitted by law and that if any provision or portion is held to be invalid, contrary to law, void or otherwise unenforceable, that such portion does not void any other part of this Agreement and that the remaining provisions or portions shall continue and remain in full legal force and effort.
I HAVE CAREFULLY READ THIS AGREEMENT AND UNDERSTAND ITS CONTENTS.
Reviews
Videos
NAF DEFENSE LLC DEFENSIVE FIREARM TRAINING!

Sign up for one of my classs today!

---