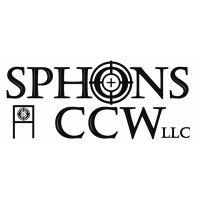 NRA Rifle Instructor Workshop
NRA Instructor
Duration: 24 Hours
Fee: $225.00
Type(s): Advanced, NRA Courses, Rifle
Instructor: Sphons CCW LLC - Jason Sphon View Bio
Description
Basic Rifle shooting class, Basic Instructor Training, Instructor training for NRA Rifle, and NRA First steps rifle programs
Documentation Requirements
Pre Course Qualification documents will be emailed after course registration and payment.
The instructor requires a copy of your CCW permit once you register.
Requirements
Rifle, 250 Rounds of ammo, Eye and Ear Pro
Topics Covered
NRA Instructor Training
Expectations and Outcomes
Upon completion of course you will be able to teach NRA Rifle shooting courses. 
Upcoming Classes
There are no upcoming classes scheduled for this course.