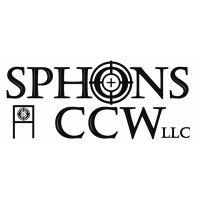 NRA Pistol Instructor Workshop
An opportunity to Teach your own CCW, Basic pistol courses
Duration: 24 Hour course over 2 Days
Fee: $325.00
Type(s): Advanced, Intermediate, Instructor Training Courses
Instructor: Sphons CCW LLC - Jason Sphon View Bio
Description
This Course included the NRA Basic pistol class, Basic Instructor Training, and The Pistol Instructor Class. 

Classes Start at 8 am both days.

Additional registration documents will be emailed to you at sighnup, and must be completed and sent back before class day.
Documentation Requirements
Documentation will be emailed to you upon registration. All documentation must be returned before class day!
Requirements
Pistol,  250 rounds of ammunition minimum, eye and ear protection
Topics Covered
Topics covered in class.

Starts with a basic pistol class.  Instructor candidates must pass the basic pistol exam wih a 90% or higher.  Topics in the basic pistol class are safety rules, 5 shooting fundamentals, applying the 5 shooting fundamentals, and 2 hours on the range. 

Instructor candidates are expected to already have a solid grasp on firearms safety, shooting fundamentals, and their application. 

Nest topic will be basic instructor training.  
This includes NRA methedology to teaching beginning shooters, How to conduct an NRA approved class, Range safety, How to order materials for NRA Classes, how to submit a student roster, and how to finalize credentialing thru the NRA. You must pass the Basic instructor exam with a 90% or higher

Next topic will be Presenting a Basic Pistol class.  All instructor candidates will be assigned a portion of the class, You will present that portion of the class, you will be graded on your attitude toward presenting the material using the NRA course outline. Your ability to follow the course outline and present the material, And your skill in presenting the information provided. There will be an final instructor exam which you must pass with a 90% or higher. 
Expectations and Outcomes
Paying for the class does not garantee a passing grade. 

You have the opportunity to pass the instructor workshop.

After passing the instructor workshop you will be able to finalize your credentials with the NRA. Allowing you to teach Basic Pistol, The marksmanship simulator, and women on target classes
Upcoming Classes
Saturday - 5/16/2020
8am-8pm 5/16 and 5/17
Minerva, OH
Instructor: Jason Sphon
Class Size: 4 - 10 Students
10 Spaces Left
Register