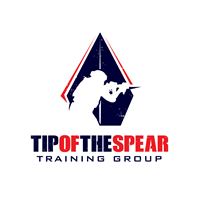 Speed Shooting (Pistol)
Learn the ability to react to situations faster and engage target rapidly
Duration: 4 hours range time
Fee: $250.00
Type(s): Advanced, Intermediate, CCW, NRA Courses, Scenario Based Training, USA Carry Courses, USCCA Courses
Instructor: Tip of the Spear Training Group - Denver Houck View Bio
Description
Students explore a variety of techniques and concepts to expand their portfolio of skills and improve levels of shooting through a combination of academic and practical exercises in this course.
Intermediate and advanced shooters are challenged in ways that allow them to shoot to their full potential. This Firearms Training focuses on breaking the "comfort zone" relative to overall speed of presentation, shot delivery, target transition, and reload, all while maintaining essential accuracy.
This is an intermediate level class. The student needs to know and be able to demonstrate safe gun handling, weapon system familiarity, marksmanship skills, and working from a holster.
Students failing to meet and maintain our safety requirements and/or who cannot meet and immediately demonstrate the minimum skills required for the specific class may be removed from training. Please ensure you have read through the class description and fully understand our prerequisites before registering.
Documentation Requirements
None. CCW preferred.
The instructor requires a copy of your driver's license once you register.
Requirements
Ammo: 400 rounds


Required Equipment:
Pistol or revolver in one of the following calibers: .380, 9MM, .357SIG, .38SPL, .357 Magnum, .40S&W, or .45ACP (no other calibers allowed)
5 magazines or 6 speedloaders/moon clips/speed strips minimum
Belt mounted, dominant side holster or duty rig
Magazine/ammunition pouches
Sturdy belt at least 1.5" wide
Footwear suitable for rapid movement and turning
Casual, comfortable civilian clothing suitable for training in any weather (unless training in duty uniform)
CCW Concealment jacket or vest (optional) 
Hydration system
Sunscreen and bugspray
Hat with a brim
Wraparound eyewear, polycarbonate lenses or non-shattering prescription glasses
Earmuffs and earplugs
Topics Covered
Course Outline:
Setting base lines with a timer
Maximizing grip and stance for high speed performance
Multiple shot strings
Transitions
Multiple shots on multiple targets
Man-on-man
Expectations and Outcomes
Students will be required to pass a qualification course of fire with a pass rate of 80% or more.
Upcoming Classes
There are no upcoming classes scheduled for this course.