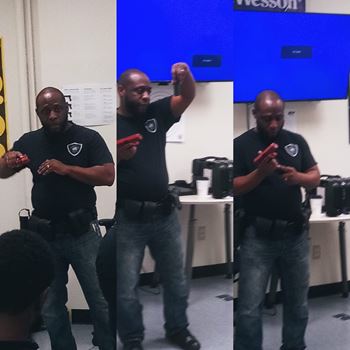 Worthen Protection services
Douglas Worthen
BACKGROUND: Former Law Enforcement, Instructor
11 Years Instructing
PH: 908 361 4424
About Worthen Protection services
Douglas Worthen
Born January 20, 1972 in Brooklyn, NY Douglas Worthen had his first Martial Arts class at the age of two. His uncle Billy Worthen, a staff sgt. In US Air Force, taught him. Due to his uncle's constant traveling the martial arts training was forced to discontinue but Douglas interest in learning the arts continued to grow. After various altercations, Douglas realized that he had to find martial arts training immediately. In 1987,Douglas found a young man in the East New York section of Brooklyn, who taught a Japanese form of Karate called Shoto-Kan. He was Know as Sensei Craig Harrison, he and Doug quickly became good friends.
By 1990 Douglas was given his black belt, with over ten awards in Kata, self defense and Kumtie for three life saving incidents. Douglas moved on to a career in security and law enforcement. Sensei Douglas first entered Law Enforcement field as an officer and then, moved on to be a SWAT Operator. He also worked for large corporations furnishing security, armed and unarmed.
In January 2004, Sensei Douglas was awarded his 3rd degree Black Belt under professor Bahiy Muhammed (simma). Sensei Douglas was also award the IAMA Hall of Fame the SIMMA Hall of Fame the Police Tactics Hall of Fame and the U.S.H.O.F.M.A.A. In 2005 Sensei Douglas was given his 7th degree Black Belt and was award the title Master, By Professor B. Mumammed. Master Douglas is the Co-Founder of Goshin Kai Academy Which supplies Martial Arts Security and physical fitness to Men ,Women, and children all over the NY/NJ area. Sensei Worthen is also semi fluent with Japanese, Spanish language and have his Brown belt in Judo under the late Sensei Bob Miller. Doug. Is also certified instructor in firearms, Baton, Handcuff and OC Spray Sensei Douglas Worthen also serviced with the Essex County Constables Office and now owns Worthen Protection Services which travels all over teaching firearms, less lethal weapons and K9 security/protection dogs. 
Courses Taught
CCW, Basic, Intermediate, Advanced, Rifle, Shotgun, NRA Courses, USCCA Courses, Active Shooter Response Training, In Home Defense Training, Scenario Based Training, Women's Only Courses, LEO / MIL / SEC Courses, Virtual Simulation, Seminars / Lectures, Security Training & Certification, Combatives / Less Lethal, Specialty Other
Class Instructors inst lev
Policies
Cancellation Policy
Worthen Protection services require early cancellation five business days before the date of training for refund $10 fee will be deductedless then five business days Worthen Protection Services will deduct $25 for late cancellation. 
Reschedule Policy
 Candidates can reschedule at anytime and will have first seat in next class if full or half payment has been made to Worthen Protection Services. There are no refunds If candidates rescheduled you will only have one time to reschedule a course, if candidate can not keep the next course date a $25 fee will be deducted and cadidate will need to sign up again as new applicant. 
Refund Policy
Worthen Protection Services will honor refunds five or more business days before course date a $10 fee will be deducted on all courses that candidate needs to cancel. If candidate drop out or cancel less then five business days a $25 fee will be deducted from candidtes refund. All candidates should expect 7 to 14 days to see refund  transaction back on all cards or bank accounts.
Reviews