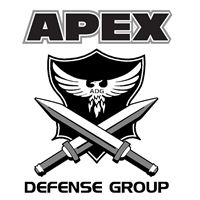 CQB w/ Force on Force
This class is for shooters who want to learn how to clear rooms and work as a team in confined spaces
Duration: 2 hours classroom, 6 hours rangetime
Fee: $200.00
Type(s): Advanced, Basic, Intermediate, LEO / MIL / SEC Courses, Rifle, Scenario Based Training
Instructor: Apex Defense Group LLC - Ryan Coe View Bio
Description
This class will cover aspects of CQB. Students will learn how to overcome obstables found in CQB and operate more smoothly around and in structurs. Students will then test what they have learned against our Opfor using force on force.
Requirements
Weapon (handgun or rifle or both)
Sling/holster
350 rounds ammo
Ear and Eye Protection
Spare magazines
Topics Covered
CQB fundamentals
Offensive and Defensive CQB
Room Clearing
Navigating Obstacles
Team movements
Force on Force
More
Expectations and Outcomes
Students will have a better understanding on how to operate in a close quarters enviroment
Upcoming Classes
There are no upcoming classes scheduled for this course.