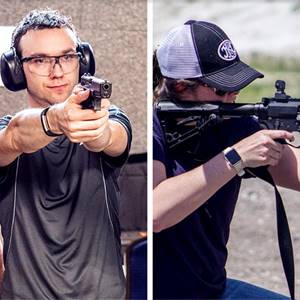 Firearms Training Classes for every interest
Beginner – Intermediate – CCW - Advanced – Tactical – Women's Only - NRA Courses – USCCA Courses – USA Carry Virtual Simulation - Scenario Based – Instructor Training – AND MORE
Features for Students
Ready to start firearms training? ShootingClasses.com helps individuals asking, "Where can I find firearms classes near me?" locate and compare firearms instructors. We make it easy to search instructors, both in your local area, your state and nationwide, and find courses that meet your firearms training needs. 
Registered students can create their own student profile. This allows you to start making progress on your training goals, keep track of the skills you've learned and share that information with others.
There's no charge to students who use ShootingClasses.com for any of our services. You are only charged by instructors for classes you sign up to attend. 
Student Platform Features
Find Instructors for your firearms training.
Keep track of the courses you complete.