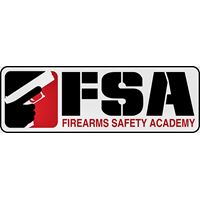 NRA Pistol Marksmanship Simulator Training
Duration: 3 hours
Fee: $45.00
Type(s): Basic, NRA Courses, Other
Instructor: Firearms Safety Academy, Inc. - Rick Winninger View Bio
Description
The course teaches basic marksmanship fundamentals, firearm safety using a simulated pistol with a resetting trigger and laser to indicate where the shots hit. No range is needed with this simulator training course. It can be held anywhere; a meeting room in a hotel, business boardroom, or in a church hall. With very little equipment, the NRA Pistol Marksmanship Simulator Training Course teaches the fundamentals of sight alignment, trigger control, grip, and breath control. At the completion of the course, an NRA participation certificate is awarded. Students may attend this course as a basis to decide whether or not they would like to follow-up by taking the full length Basic Pistol Course with live fire, or simply learn to improve their marksmanship skills.
Requirements
WHO SHOULD TAKE THIS CLASS:
-Ages 12 and older (under 18 with parent/guardian consent);
-Beginner or inexperienced shooters;
-Students who are unfamiliar with or afraid of guns;
-Intermediate shooters looking for a review of the basics;
-Anyone looking for the fun and enjoyment of training on a simulator
Topics Covered
THE CLASS WILL COVER:
Rules for safe gun handling;
-Fundamentals of pistol marksmanship;
-Practical, hands-on shooting using a simulator pistol
Expectations and Outcomes
EACH STUDENT RECEIVES A PACKET CONTAINING:
-NRA course completion certificate
-LASR Computer printed record of their shooting skills and accuracy (via email)
Gun Safety Rules Sheet
Upcoming Classes
There are no upcoming classes scheduled for this course.