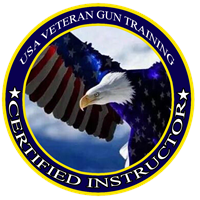 North Carolina Concealed Carry
Learn the requirements for conceal carry and qualification time
Duration: 8hr. Class 1hr. Range time
Fee: $80.00
Type(s): CCW
Instructor: USA Veteran Gun Training - Christian Bell View Bio
Description
A class to learn basic gun handling and the laws of North Carolina Conceal Carry
Documentation Requirements
Bring your Drivers License or your State ID
Requirements
Bring the pistol that you are going to carry concealed
Ear Protection
Eye Protection

Have ammuniction in your vechile to use for the range

DO NOT BRING AMMUNITION IN THE CLASS ROOM! 
Topics Covered
Welcome/Introduction/Initial Firearm questions/Admin
Four Important Rules/North Carolina law and legal
Handguns/Marksmanship Fundamentals
Conceal Carry Safety/Presenting Techniques
Holsters
Cleaning and Maintenance/Ammunition
Range Glossary and Range Rules
Drills and Review
Final Questions/Parking Lot
Test
Expectations and Outcomes
The student will complete the classroom portion, if they feel they are ready they can qualify.
Upcoming Classes
There are no upcoming classes scheduled for this course.