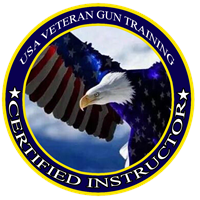 Basic Pistol Famerity
Intro to pistols
Duration: 4 hours
Fee: $75.00
Type(s): Basic, NRA Courses
Instructor: USA Veteran Gun Training - Christian Bell View Bio
Description
This is a course for beginners to take to allow themselves to become familiar with both revolvers as well as semi-auto handguns. They will be able to look at and handle several different guns and see the different calibers that are offered. There will be range time included with the course. 
Requirements
Bring the pistol you wish to shoot on the range, as well as hearing and eye protection. 
Topics Covered
STATE THE COURSE GOAL AND ANY SPECIAL
REQUIREMENTS FOR THE LESSONS
IDENTIFY THE PRINCIPAL PARTS OF A PISTOL AND
THE TYPES OF PISTOL ACTIONS, AND DEMONSTRATE HOW THEY FUNCTION
STATE, EXPLAIN AND APPLY THE NRA RULES FOR SAFE GUN HANDLING
DEMONSTRATE HOW TO HANDLE A PISTOL IN A SAFE MANNER
Expectations and Outcomes
Have basic knowledge of a pistol including cleaning and handling and shooting positions. 
Upcoming Classes
There are no upcoming classes scheduled for this course.