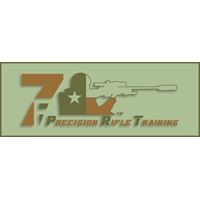 Long Range Precision Rifle II (LRPR II)
Duration: 3 day (8 hours per day)
Fee: $1,050.00
Type(s): Long Range Precision
Instructor: 7 Foxtrot LLC - Erick FIndley View Bio
Description
The Long Range Precision Rifle II (LRPR-II) is a 3 day advanced precision rifle course for the experienced long range precision shooter.  LRPR-II continues to build the foundation of Precision Marksmanship Fundamentals used in LRPR-I and introduces different shooting positions and techniques
Documentation Requirements
All students must 18, have the legal ability to purchase a rifle, and be a US Citizen or resident (identification required & verified prior to course start).
Standard background check must be completed prior to course (Current State LTC waives background check).
This course can be taken by minors (under 18 but older than 15) with accompanying parent in the course and at instructors discretion.
The instructor requires a copy of your driver's license once you register.
The instructor requires a copy of your CCW permit once you register.
Requirements
Rifle capable of 1 MOA at 300 yards.
Recommend a .300 caliber or higher bolt action rifle.  Semi-automatics are accepted as long has they can hold 1 MOA at 300 yards. NO .50 Caliber.  (.260 Remington, 6, 6.5 match grade is acceptable)
Precision Rifle Scope with MilDot or MilRad reticle (fixed or variable) w/capped or target turrets
Rifle support (front: bipod; rear: bag)
Minimum 200 rounds factory match ammunition (300 rds preferred).  NO RELOAD AMMUNITION
Rifle cleaning gear
Inch Pound Torque wrench (according to rifle)
Hearing protection (Electronic preferred)
Eye protection
Long sleeve shirt/long pants
Rugged field boots
Note taking material w/Pencil
WATER SOURCE
FOOD
Seasonal weather gear/rain gear
Topics Covered
Safety
Refining of Precision Marksmanship Fundamentals
Ballistic Computer/Applications
Supported and Unsupported Positions
Barricade and Hasty Position Shooting
Effects of and Shooting through Mediums (Glass, drywall, wood, cinder blocks, etc.)
Rifle Data gathering out to 1000 yards
Shooting through a Loophole
Introduction to Shooting Moving Targets
Expectations and Outcomes
Since most shots are rarely taken from the prone, the fundamental techniques will be applied using supported and unsupported positions, utilizing tripods, barricades, and other unconventional shooting platforms.  Students will become comfortable and proficient using shooting techniques, wind determination, and ballistic applications.  Students can expect to shoot 200-300 rounds to 1000 yards and beyond dependent on the shooters rifle and cartridge.
Upcoming Classes
There are no upcoming classes scheduled for this course.