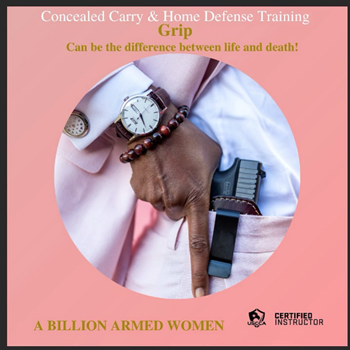 A BILLION ARMED WOMEN
P.R. JACKSON
BACKGROUND: Law Enforcement, Instructor, Gov't Employee / Contractor
5 Years Instructing
PH: 202 596 7976
About A BILLION ARMED WOMEN
"My belief is that "IF you arm the mind the body will follow"

My name is Jackson, I am an Executive Protection Agent, background investigator, and more. As an international and domestic traveler, I began my law enforcement career at the FBI Academy. I worked for the FBI as a computer forensic examiner. I have been assisting the government and contracting companies with their security initiative programs for many years. I have supported worldwide Military Forces Law Enforcement, Intelligence agents, Counter Intelligence Personnel as well as the CIA, NRO, NSA, DARPA, CBP and more.

I am highly trained in Force Protection and Operations Security:
trained in avoiding threat situations via prior planning and maintaining situational awareness, threat evasion, offensive and defensive driving, enhance perimeter security, vehicle searches for surveillance and explosive devices, high performance driving on various terrains and surfaces.

Weapons: Trained in the operation of the Colt M4 carbine for threat evasion via marksmanship skills to engage targets at 200, 100, 50, 15, 10 and 5 meters. Trained in the operation of the Glock 19 handgun for threat evasion via marksmanship skills to engage targets at 20, 15 and 5 meters. Trained in the operation of the Remington 870 & Stoger Defense Double shotgun and AR15 for perimeter defense. Advanced Handgun, Shotgun, CPR and AED to name a few.

My technological security background includes, computer forensics and investigations, biometrics detection, tracking, collecting, identification and verification. Biometric algorithmic research, metrics algorithm studies, biometric modality studies, NIST biometric evaluation testing reports, and NIST face recognition vendor test reports. Experienced in integrating fingerprint, voice pattern, iris scan, gait and more.

Lastly we must train our minds and condition ourselves to properly prepare ourselves for any situation that may occur. My goal is to impress upon you the importance of situational awareness, avoidance, retreat and deescalation unless you have no other option. Your goal and my goal is for you to always return home alive every time you leave your establishment armed or unarmed. I look forward to conversing with you during our classes. Thank you!
Courses Taught
CCW, Basic, Intermediate, Advanced, Rifle, Shotgun, NRA Courses, USCCA Courses, In Home Defense Training, Scenario Based Training, Women's Only Courses, Virtual Simulation
Certifications
NRA, USCCA Certified Instructor
Pistol, Shotgun, & Simulaiton
Reviews