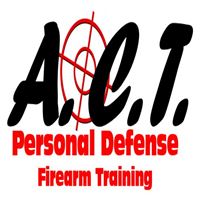 Basic Pistol Shooting Course
Basics of Pistol Shooting is intended for all individuals regardless of previous shooting experience.
Duration: 8 hour classroom and range time
Fee: $150.00
Type(s): Basic, Intermediate, CCW, NRA Courses, USCCA Courses
Instructor: ACT Personal Defense LLC - Wayne Lanier View Bio
Description
The Basics of Pistol Shooting instructor led, is intended for all individuals regardless of shooting experience, taking place in a classroom and range environment. This course will be 8 hours, completed in a single day. Additionally, students will complete live fire training and complete shooting qualifications while at the range with an NRA/USCCA Certified Instructor. 
Documentation Requirements
This course is open to all US citizens

Requirements
I want to encourage you to dress for the occasion, comfortable pants and shoes. We will be shooting a .22 caliber firearm and your personal firearm during the live fire exercise. I'll furnish the .22 caliber firearm and ammo - you'll need to furnish your personal firearm and ammunition for this training. Shooting will be done at a local gun range. 
Make sure you bring an unloaded firearm into the Training Center. I'll perform a firearm safety check to make sure it is safe to handle.
Here is a list of items you need to bring to training;
    A notebook or paper to take notes on
    A pen and highlighter
    Eye and ear protection

    Your pistol and 50 rounds of ammunition (minimum)
Topics Covered
Firearm safety
Proper operation of revolvers and semi-automatic pistols
Ammunition knowledge and selection
Pistol selection and storage
Shooting fundamentals
Marksmanship, and range safety.
Expectations and Outcomes
Know the three rules for safe gun handling
Understand the primary causes of firearms accidents and how to avoid them
Learn the different firearm parts
Demonstrate how to load and unload certain Firearm types
Learn about ammunition components
Demonstrate proper cleaning, care and safe storage of firearms in the home
Finally, all your hand work will be rewarded by receiving your frameable official NRA/USCCA completion certificate which you can proudly display.