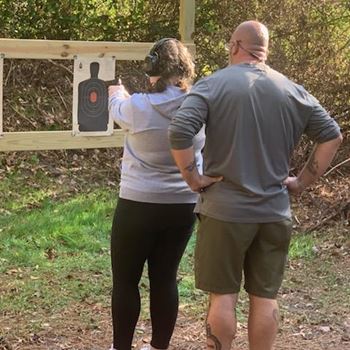 Aim Firearms Training
Shane Hicks
BACKGROUND: Civilian, Former Military, Former Law Enforcement, Instructor
7 Years Instructing
PH: 843 758 4285
About Aim Firearms Training
Welcome to AIM Firearms Training. 

I am Shane Hicks and I am the owner/instructor.  Qualifications include NRA Pistol Instructor, SLED Certified SC CWP Instructor, USCG PISTOL expert, USCG RIFLE expert, NC BLET TOPGUN AWARD recipient.  I have been involved with shooting and shooting sports since the age of 10.  I believe "THE FIGHT IS WON WITH TRAINING" it is also my company motto. 

Here are AIM you will recieve classroom instruction, or one-on-one training and range time if needed.  You can either do one-on-one Training before or after you take a course.

Let's get started.


Recent Reviews:

Took a concealed carry class with Shane Hicks. We took the class as a family and thoroughly enjoyed it. Shane's natural ability to connect with people, his knowledge of the subject matter, and his use of personal stories put everyone at ease , and helped facilitate everyone's successful completion of the course. Would highly recommend this class and this instructor for anyone looking to get their CWP.
5 out of 5 stars.
Steve Harrelson



Are you nervous about weapons, learning new things, or just being around a large group of strangers? Then this course is perfect for you! Gather a group of your friends or family and have Shane come teach you all in an environment in which you're comfortable. Not only was he more than knowledgeable about the material, but he helped tie everything into real life examples. He made sure to answer all questions in a way everyone could easily understand, and made us all feel comfortable about topic some were not so comfortable with. His enthusiasm and knowledge were definitely obvious, and most of all he was a lot of fun! 

5 stars, Stephanie Harrelson


As a person who is nervous around guns and had been hesitant to take a CWP course, I no longer have anxiety. Our instructor took the time to work with my daughter and I  to be comfortable with proper use of a firearm. We were able to pass the class due to his treating us as individuals. I strongly recommend his class.

Alyssa Norwood
Courses Taught
CCW, Basic, NRA Courses, Women's Only Courses
Certifications
NRA PISTOL INSTRUCTOR
SLED CERTIFIFED SC CWP INSTRUCTOR
NRA CHEIF RANGE SAFETY OFFICER
USCG PISTOL EXPERT
USCG RIFLE EXPERT
NC BLET TOPGUN AWARD RECIPIENT
Frequently Asked Questions
Will I need to bring anything with me to class? 

YES  Bring your payment for the course you are attending (if you did not register on shootingclasses.com) and your state issued drivers license.  That is all you will need.

What if I am nervous?

GREAT  I teach at the level you are at.  I do not and will not allow anyone in the class to make someone else feel uncomfortable.  I can help with any level of anxiety or uncertainty.
Reviews