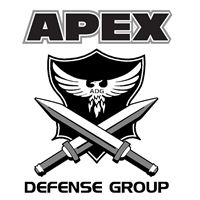 Low Light- Rifle
This class will cover low-light shooting concepts and tecniques on a rifle platform
Duration: 2 hours lecture, 2-3 hours range time
Fee: $125.00
Type(s): Advanced, Intermediate, Rifle
Instructor: Apex Defense Group LLC - Ryan Coe View Bio
Description
This class will examine low light shooting considerations and techniques. Students will learn about light discipline, light considerations, importance, lighting transitions, and more.
Requirements
A rifle w/ supressor
Weapon mounted flashlight
250 rounds of ammo
Sling
Extra magazines
Supressor
Ear and Eye Protection
Topics Covered
Using a backup light
Reloads and fundamentals in the dark
Light Discipline
Lighting transitions
More
Expectations and Outcomes
A better equipped and trained shooter in low light conditions
Upcoming Classes
There are no upcoming classes scheduled for this course.