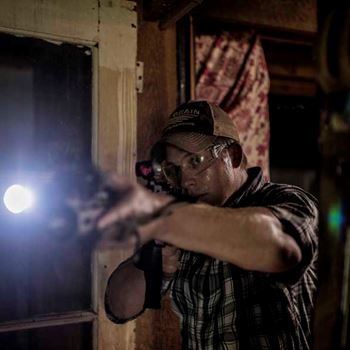 Arms To Bear Security Specialists
KEVIN ROTH
BACKGROUND: Civilian, Law Enforcement, Former Law Enforcement, Instructor, First Responder (Fire / EMS)
20 Years Instructing
PH: 888 212 7918
About Arms To Bear Security Specialists
I have been raised around and experienced firearms for more than 45 years with professional hands on experience training Civilians, Law Enforcement, Military and Security for more than 20 plus years. In addition to hands on experience as a reserve Deputy Sheriff and Law Enforcement Chaplain I have attended and graduated from some of the country's most elite training schools and academies. We have trained thousands of students over the years and take pride in providing the very best and up to date defensive shooting skills and tactics available. We might not be the cheapest game in town but we promise all of our students we will provide you with the best possible training experience you can obtain anywhere in our area and we back it up with a 100% no questions asked money back guarantee.
Courses Taught
CCW, Basic, Intermediate, Advanced, Rifle, Shotgun, NRA Courses, USCCA Courses, Active Shooter Response Training, In Home Defense Training, Scenario Based Training, LEO / MIL / SEC Courses, Virtual Simulation, Seminars / Lectures, Tactical Casualty Care (TCCC / TECC), Security Training & Certification, Combatives / Less Lethal
Class Instructors Pete Rucinski
Certifications
Advanced Law Enforcement Training Camp Graduate, 2009, 2010, 2013, 2015, 2018
Combat Focused Shooting Graduate 2011
Defensive Firearms Coach (Ice Training Company) Rob Pincus
Fema (Emergency Support Specialist ESF-13) Public Safety & Security
ICE Firearms Training-Defensive Shooting Coach
ICE Firearms Training-Intuitive Sighting Defensive Shooting Coach-Instructor
Law Enforcement (Active Shooter-Response Options) Certified Instructor
Law Enforcement Chaplain (2000-2008)
Law Enforcement (Patrol Rifle Carbine) Certified Instructor (Armor Group-ITI-G4S)
Law Enforcement Range Master (Certified-Armor Group-ITI-G4S)
LMS Defense-Carbine Instructor
NRA Certified Pistol Instructor
NRA Certified Range Safety Officer
NRA Certified Shotgun Instructor
NRA Certified Personal Protection Inside The Home Instructor
NRA Certified Personal Protection Outside The Home Instructor
NRA Certified Refuse To Be A Victim Instructor
Phoenix State University: Master Defensive Firearms Instructor
Rangemaster-Armor Group-ITI-G4S
Rapid Deployment Pistol Operator (Certified Team Spartan)
Reserve Deputy Sheriff (1983-1992)
Response Options-Raider Graduate-Adjunct Instructor
State of Nevada Approved Concealed Carry Instructor
State of Oregon Approved Concealed Carry Instructor
State of Utah Approved Concealed Carry Instructor
Street Medicine Instructor (Tactical Combat Casualty Care)-(Certified-Trilogy)
Taser M26 & X26 Instructor (Certified Taser International)
USCCA Concealed Carry & Home Defense Fundamentals Instructor
USCCA Range Safety Officer
Policies
Cancellation Policy
Minimum 72 hours advance notice prior to the class required to cancel.

Reschedule Policy
Minimum of 48 hours advance notice prior to class is required to reschedule.

Refund Policy
Minimum 14 days advanced notice prior to class date required for refund (only 50% of payment will be refunded)
Videos
Mobile Shooting Range

Full description of services offered

---