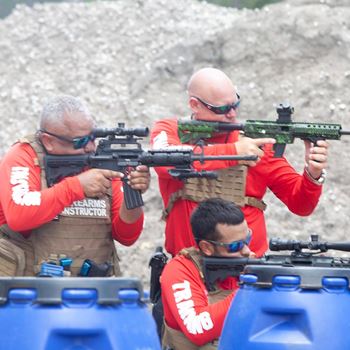 Criminal Justice Protections
STEVEN MALDONADO
BACKGROUND: Former Military, Law Enforcement, Former Law Enforcement, Instructor
25 Years Instructing
PH: 863 673 1971
About Criminal Justice Protections
Taser Instructor
Distraction Device
Racial Profiling Instructor
Domestic Violence Instructor
Human Diversity Instructor
Instructor Techniques
Domestic S.T.F Instructor
SWAT Operator & Instructor
Trail Glades Firearm Safety
Child Death Investigator
Advanced Death Investigator
Undercover & Covert Operations
FCIC Certified
Organized Crime
Field Training Officer
Hostage Negotiator
Advanced Criminal Law
Narcotics Identification
Special Tactical Problems
Case Preparation & Court Presentation
Child Injury Investigator
Radar Speed Measurement
Interviews & Interrogations
Injury & Death Investigations
Courses Taught
CCW, Basic, Intermediate, Advanced, Rifle, Shotgun, Long Range Precision, NRA Courses, Active Shooter Response Training, In Home Defense Training, Scenario Based Training, Scenario Based Training (Simunitions, Man Marking Cartridge), Women's Only Courses, Instructor Coach Training Courses, LEO / MIL / SEC Courses, Tactical Casualty Care (TCCC / TECC), Security Training & Certification
Certifications
NRA BASIC PISTOL
NRA WOMEN ON TARGET
NRA PERSONAL PROTECTION INSIDE THE HOME
NRA LAW ENFORCEMENT INSTRUCTOR
STATE OF FLORIDA FIREARMS INSTRUCTOR
CERTIFIED LAW ENFORCEMENT OFFICER
SWAT
STATE OF FLORIDA "K" INSTRUCTOR 
STATE OF FLORIDA PRIVATE INVESTIGATOR
STATE OF FLORIDA "DI" INSTRUCTOR
STATE OF FLORIDA SECURITY AGENCY
STATE OF FLORIDA PRIVATE INVESTIGATION AGENCY
Policies
Cancellation Policy
For all clasess, if you cancel for any reason, there is NO REFUND. PLEASE UNDERSTAND THAT THESE CLASSES ARE SET AND ONCE THEY ARE FILLED THE ENROLLMENT IS CLOSED. These classes are very difficult to put together and if you cancel we cannot replace you once enrollement is colsed. 
Reschedule Policy
In the event that you do cancel for a proven emergency, we will allow you to return to another class that is on the schedule. It must be the same class level. If you cannot make the next scheduled class, it will be you to you to contact us via email for the next scheduled class. This reshedule policy is only valid for 60 days. After 60 days you enrollment will be voided and no refund or enrollment is allowed unless you resubmit. 
Refund Policy
Under no circumstances is any of these clsses refundable. NO REFUNDS.