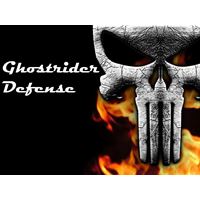 Concealed Carry & Home Defense Fundamentals
Michigan CPL Course
Duration: 1 Day - 8 Hour Course
Fee: $140.00
Type(s): CCW, USCCA Courses
Instructor: Ghostrider Defense LLC - Michael Kasper View Bio
Description
This course exceeds the requirements for the State of Michigan Concealed Pistol License (CPL).  
This is an 8 hour course  that covers  creating a personal and home defense plan, self defense firearm handling, defensive shooting fundamentals, the legal use of force,  the aftermath of a violent encounter, proper gear/equipment, and live fire exercises.
Documentation Requirements
Students must provide a valid photo ID the day of class.
The instructor requires a copy of your driver's license once you register.
Requirements
Students must be at least 18 years of age and be legally able to possess a firearm.  

Required equipment:

Eye & ear protection
Safe functioning pistol or revolver
minimum of 2 magazines or speed loaders
100 rounds of factory ammunition (no reloads, no magnum calibers)
Note taking materials
Topics Covered
Creating a Personal and Home Defense Plan
Basic Firearms Safety
Safe Transport and Storage
Defensive Shooting Fundamentals
Legal use of force
The aftermath of a violent encounter
MI CPL Law
Proper gear/equipment
Expectations and Outcomes
Upon successful completion, students should have gained a better overall understanding of firearms safety and their general function.  Safe operating procedures on a live fire range, justified use of deadly force, MI CPL Law, Defensive shooting techniques, and basic principles of personal protection.  Students successfully completing this course will receive a certificate compliant with the State of Michigan's requirements for applying for a Concealed Pistol License.
Upcoming Classes
There are no upcoming classes scheduled for this course.