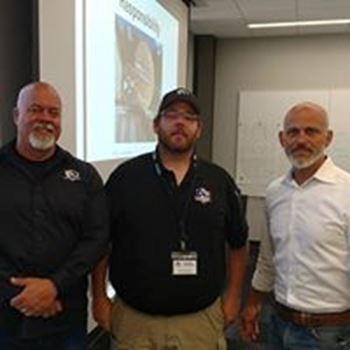 Ghostrider Defense LLC
MICHAEL KASPER
BACKGROUND: Civilian, Instructor
9 Years Instructing
PH: 989 450 5988
About Ghostrider Defense LLC
Our Mission:  To provide the area's best training in personal defense through education in awareness, avoidance, de-escalation, and escape techniques, and incorporating hand to hand and firearms skills.  All applied under the legal use of force to defend against threats faced in today's world.

Why Choose Ghostrider Defense?
If you've done any research on concealed carry classes, it doesn't take long to realize that not all classes or instructors are created equally.  Here are just a few things that we bring to the table that a lot of other classes do NOT:
All of our concealed carry classes are taught by not 1 but 2 certified instructors with extensive backgrounds in firearms as well as being graduates of some of the best training courses in the country. 
Live fire is conducted with several additional range safety officers to give a low student to instructor ratio, providing an extremely safe and learning centered environment.
Our range exercises feature a more advanced course of fire, with focus on developing defensive shooting skills.  The skills we teach exceed that of the NRA course and far exceed the requirement of the State of Michigan.  (The state of Michigan only requires that you safely fire 30 rounds in any fashion.  Our course requires a minimum of 90 rounds and encompasses multiple distances, shooting positions, reloads, and shooting under stress.)
Expanded legal presentation covering the legal use of deadly force, Michigan CPL Law, and a breakdown of the Michigan Self Defense Act.
As a USCCA Affiliate, we can get you the best offers on Self Defense Shield (Concealed Carry Insurance).  Not only that, but you also have ability to purchase this insurance before you ever even leave class and have it be effective immediately.
Once you are one of our students, the relationship doesn't end when the class does.  We offer ongoing support for any questions you may have, whenever you may have them (even years into the future).  We also offer several advanced courses to help further develop your skills, and any previous student can sit in on a future class for a refresher free of charge, FOREVER.
Courses Taught
CCW, Basic, Intermediate, Advanced, Rifle, Shotgun, NRA Courses, USCCA Courses, Active Shooter Response Training, In Home Defense Training, Instructor Training Courses, Seminars / Lectures, Specialty Other
Class Instructors Chris Kerr Doug Young Josh Bumgarner
Certifications
USCCA

Training Councelor
Concealed Carry & Home Defense Instructor
Countering a Mass Shooter Threat Instructor
Emergency First Aid Instructor
NRA
Basic Pistol - Instructor
Personal Protection in the Home - Instructor
Personal Protection Outside the Home - Instructor
Refuse to be a Victim - Instructor
Chief RSO (RSO Instructor)
Other Training:
Graduate of MAG-40 (taught by Massad Ayoob)
Graduate of Law Of Self Defense (course by Andrew Branca)
Policies
Cancellation Policy
In the case where a class is canceled by us, students will be given the option to reschedule or receive a refund of all fees.

Student cancellations must be received in writing, at least 24 hours prior to class.  If proper notice is received, students will be allowed to reschedule to a future class.  If they do not attend or cancel the second registration, all fees are forfeited.  

In the case of a no-show (with no notice given), all fees are forfeited and the student will not be allowed to register for any classes for a period of 1 year.
Reschedule Policy
In the event that a class needs to be rescheduled by us, students will be given the option of a seat in the rescheduled class, or a refund, less any applicable processing fees
Refund Policy
All fees are non-refundable (see cancellation policy)
Reviews