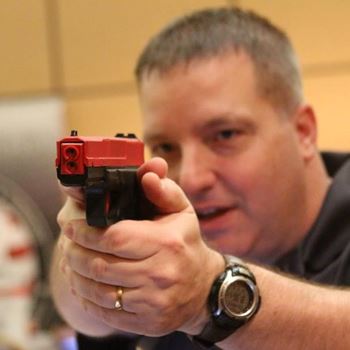 GreenStar Tactical
Chad Gruenstern
BACKGROUND: Former Military, Law Enforcement, Instructor
18 Years Instructing
PH: 920 716 0050
About GreenStar Tactical
After graduation high school, I spent some time in the military as a linguist.  When I got out, I moved back to Wisconsin where I spent 6 years as an emergency services dispatcher full time and EMT part time.  I eventually moved back to the Fox Valley where I finished schooling and became a police officer in 2001.

In 2005 I became a certified law enforcement firearms instructor.  In 2015, I became certified through USCCA to become an instructor and have taught numerous classes, including instructor classes, since then.  I love teaching and sharing, and learning from each person I meet.

My classes go beyond the basics.  You won't just walk in, get the bare minimum, and walk out with a certificate.  You will learn about personal protection, situational awareness, conflict avoidance, and the laws regarding concealed carry.

With advanced classes, you will learn drills you can practice on your own, in your own home, while learning different shooting positions.  We train with SIRT pistols, so the training is 100% safe - there are NO live firearms in these classes.

For live fire training, I can go with you to a local range and we can start from ground zero with new shooters, or we can zero in on deficiencies and refine your speed an accuracy.
Courses Taught
CCW, Basic, Intermediate, USCCA Courses, Women's Only Courses, Seminars / Lectures, Specialty Other
Reviews