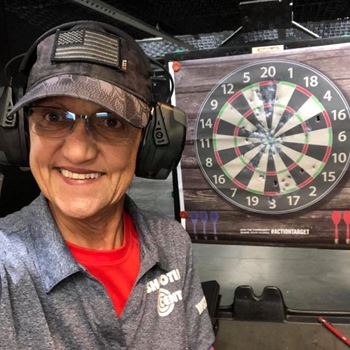 Laiuppa Firearm Safety & Instruction
Gretchen Laiuppa
BACKGROUND: Civilian, Instructor
5 Years Instructing
PH: 321 759 3341
Available Courses
Next Class
Course
Type
Difficulty

No Upcoming Classes


Contact Instructor
Gun Cleaning 101

Basic, Intermediate, NRA Courses, In Home Defense Training, Women's Only Courses, Other

Basic
About Laiuppa Firearm Safety & Instruction

Assistant Range Master, Instructor and Civilian Training Coordinator at American Police Hall of Fame Shooting Center in Titusville, FL.

I oversee the Ladies Only training on Saturday mornings and Wednesday evenings.

I have eight years of shooting experience and am a Certified NRA Chief Range Safety Officer and in NRA Basic Pistol
and Rifle, and Protection in the Home. I am also a USCCA certified instructor and
a Facilitator/Trainer the A Girl & A Gun Women's Shooting League Orlando Chapter, as well as a 3-gun competitor.

I am passionate about helping women gain confidence and skill in the shooting area.

I am also a fluent Spanish speaker/instructor.
Courses Taught
CCW, Basic, Intermediate, Rifle, NRA Courses, USCCA Courses, Women's Only Courses, Virtual Simulation
Certifications
Certified NRA Rifle, Pistol and Personal Protection In The Home Instructor
Certified NRA Chief Range Safety Officer
Certified USCCA Instructor - Concealed Carry and Home Defense & Women's Handgun and Self Defense Fundamentals
Certified Trainer - A Girl and A Gun Women's Shooting League