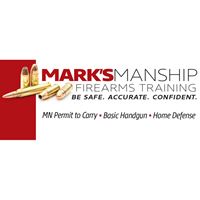 Multi-State MN Permit to Carry
Duration: 8:30-2:00 about 4 1/2 hours classroom
Fee: $69.00
Type(s): CCW
Instructor: Mark'smanship Firearms Training, LLC - Mark Ehlen View Bio
Requirements
Is it really okay for someone with no experience with guns to take this class?
You bet. This class covers basic handgun safety and use. But it goes way beyond that. There is a lot more that you need to know about carrying a handgun than just shooting well though that is certainly important. That said, this is not an advanced pistol class. Everyone should seek additional training after they have their Permit to Carry.


What if I fail the class?
That's unlikely. There is no written exam and expert marksmanship is not required. About the only way to fail would be to demonstrate an inability or unwillingness to follow the four universal safety rules.
Upcoming Classes
There are no upcoming classes scheduled for this course.