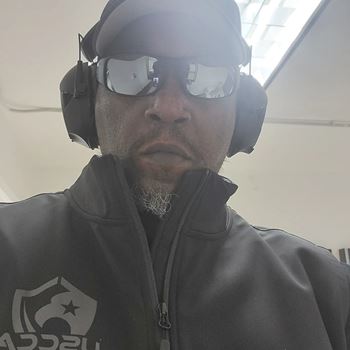 Ophidian Tactical Solutions
Richard Powell
BACKGROUND: Former Military, Instructor, Gov't Employee / Contractor
1 Year Instructing
PH: 470 781 4690
About Ophidian Tactical Solutions
I am a certified instructor with the USCCA and a US Navy Veteran.  I have been involved with firearms since early on in my military career and became an instructor in 2021.  I'm based in Atlanta and train at several locations around the city.

I specialize in Concealed Carry and Basic Handgun courses and I also have a Women's Handgun class.  My main goal is to teach new shooters the basics and also to reach under represented and marginalized groups that may be new to the 2A community
Courses Taught
CCW, Basic, Intermediate, USCCA Courses, Active Shooter Response Training, In Home Defense Training, Women's Only Courses
Class Instructors Maurice Chapman Paige Jones
Certifications
USCCA Concealed Carry Certification
USCCA Home Defense Certification
USCCA Basic Handgun Certification
USCCA Womens's Handgun Certification
Policies
Cancellation Policy
Students are required to cancel at least 48 hours in advance of a class date in order to receive a full refund. Classes cancelled less than 48 hours before the class will not be refunded but students can reschedule.
Reschedule Policy
Students can reschedule at anytime prior to class date.
Refund Policy
Refunds will be given up to 48 hours prior to the class minus a $10 processing fee.
Other Policy
Due to the current COVID-19 we are requesting social distancing be adhered to as much as. possible.  The use of face masks are optional.
Waiver
In consideration of being allowed to participate in training or other events provided by Ophidian Tactical Solutions LLC, I hereby understand and agree to this release of liability, waiver of legal rights, and assumption of risk and to the terms hereof as follows:
I fully understand that this training/ event is inherently dangerous to myself and others. I fully understand that the training I will be participating in could possibly be dangerous to myself and others. I will not hold Ophidian Tactical Solutions LLC, any instructor, or any training facility liable for any property damage, injury or death caused by myself or another.
During training / events I will not be under the influence of any drug or medication, legal or illegal that will impair my judgment or ability to safely participate in the activities. I also have no physical or psychological illnesses that would prevent me from safely participating in the training / event activities.
I acknowledge that the use of firearms could result in injury to participants, including the potential for permanent paralysis and death. I understand and acknowledge that using firearms is an activity that has inherent dangers that no amount of care, caution, instruction or expertise can eliminate, and I EXPRESSLY AND VOLUNTARILY ASSUME ALL RISK OF DEATH OR PERSONAL INJURY SUSTAINED WHILE PARTICIPATING IN SHOOTING ACTIVITIES WHETHER OR NOT CAUSED BY THE NEGLIGENCE OF THE RELEASED PARTIES.
I take full responsibility for, RELEASE, AND HOLD HARMLESS Ophidian Tactical Solutions LLC, their owners, employees, instructors, and any training facility from any and all liability, claims, demands or causes of action that I may hereafter have for injuries or damages arising out of my participation in all training activities included, but not limited to, losses CAUSED BY THE NEGLIGENCE OF THE RELEASED PARTIES.
I further agree that I WILL NOT SUE OR MAKE CLAIM against the released parties for damages or other losses sustained as a result of any injury, or death, sustained from my participation in training activities. I also agree to INDEMNIFY AND HOLD THE RELEASED PARTIES HARMLESS from all claims, judgments and costs including attorney's fees, incurred in connection with any action brought as a result of participation in training activities.
I hereby expressly recognize that this Release of Liability, Waiver of Legal Rights, and Assumption of Risk is a contract pursuant to which I have released any and all claims against the Released Parties resulting from any injury, or death, sustained from participation in training activities, including any claims for negligence of the Released Parties.
I further represent that I am at least 18 years of age, I waive and release any and all legal rights that may accrue to me as the result of any injury I may suffer while engaging the Ohio CCW class and any firearms training.
I HAVE READ THIS RELEASE OF LIABILITY, WAIVER OF LEGAL RIGHTS AND ASSUMPTION OF RISK AND FULLY UNDERSTAND ITS CONTENTS.
Reviews