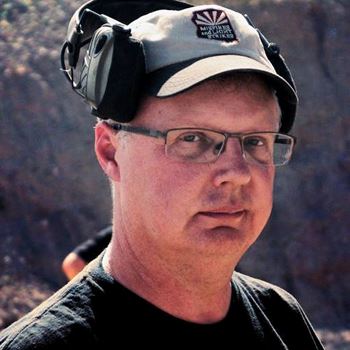 Quietly Armed LLC
Kevin Creighton
BACKGROUND: Civilian, Instructor
4 Years Instructing
PH: 480 280 7703
About Quietly Armed LLC
"Kevin Creighton is an essential part of my brain trust: I rely on his insight when it comes to practical shooting and firearms ownership in the US".
- Michael Bane, TV Host, The Outdoor Channel 

I'm an NRA and Rangemaster Certified instructor in a number of disciplines, and I write about firearms and gun ownership for the National Rifle Association. I've been a keynote blogger on KFYI radio, been featured on a Shooting Gallery TV episode on Outdoor Channel and done a bunch of radio/podcast appearances.

I have over 900 hours of firearms training from people like Tom Givens, Kyle Lamb, Massad Ayoob, Bob Vogel, Rob Leatham, John Farnam, Gabe Suarez and a bunch of other people. I've also led the marketing for a number of companies in the firearms world, and I'm an active competitor in USPSA, IDPA and 3 Gun.


Courses Taught
CCW, Basic, Intermediate, Shotgun, NRA Courses, In Home Defense Training, Church / Business - Safety / Security, Women's Only Courses, Private Classes (Group / Individual), Seminars / Lectures, IDPA /USPSA / Multi Gun, Steel / Rimfire Challenge, Specialty Other
Certifications
NRA Basic Pistol Instructor
NRA Personal Protection Inside The Home Instructor
NRA Pistol Marksmanship Simulator 

Rangemaster Instructor
Rangemaster Defensive Shotgun Instructor

Gunsite Graduate
Policies
Cancellation Policy
If the cancelled class is conducted by a Quietly Armed instructor, full credit for the class fee will be applied to another upcoming class. 
If the cancelled class is conducted by an outside instructor, a full refund, less the cost of any student instructional materials purchased for the class.
Reschedule Policy
Firearms classes are rescheduled due to weather only when there is an extreme weather warning from the National Hurricane Center. Other than that, we train in the rain, or the sun, or the occasional plague of locusts. 
Refund Policy
Full refunds are available up to four weeks before the day of scheduled class. After that time, the cost of materials and pro-rated expenses of the class will be deducted from the refund. No refunds will be available from one week before the class is  to occur, on to the day of the class itself. 
Reviews