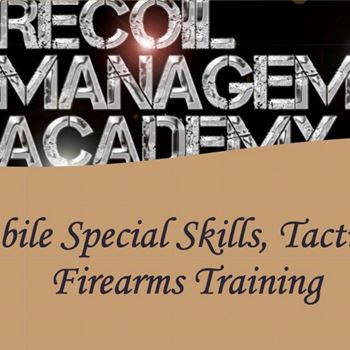 Recoil Management Academy
Kirk Peavy
BACKGROUND: Former Military, Instructor, Gov't Employee / Contractor
20 Years Instructing
PH: 828 781 3059
About Recoil Management Academy
Peavy is a former US Army Special Operations Counterintelligence/Counter Terrorism Professionalwith over 20 years' experience in the public and private security sectors. He has in that time accumulated a significant amount of relevant and contemporary security experience in all aspects of Executive/Diplomatic Protection for the US Government and Commercial Clients. His time as a Counter-Intelligence/Counter Terrorism Operator with the US Special Operations Command and Intelligence Security Command He conducted Threat and Vulnerability Assessments along with Red Team Assessments of numerous US Installations across Europe for the United States Army Europe (USAREUR) Command. He has conducted and overseen numerous security operations of Embassies, Installations, Foreign Ministries, Schools and financial banking institutes throughout the Middle East for the United States Department of State.
Peavy has vast experience as a firearms instructor from his military career to over 15 years with Department of State's High Threat Protection Program. Peavy is the CEO/Owner of Recoil Management Academy, Davie County North Carolina and a guest instructor at Black Tree Ranch, Smithville, TX. He conducted immense amount of training from basic firearms to advance techniques, CQD/CQB, Room Entry, Small Unit Tactics and so much more, all with proven past performance.
Peavy is a highly organized and detail-oriented security professional, strategist, manager, leader and professional instructor with a proven track record of managing security details upwards of 600+ personnel. He has an extensive background in overseeing and participating in protective security operations, active shooter awareness training, and regulatory contractual compliance. These qualities, combined with his genuine commitment to personal and professional growth, would enable him to make a substantial contribution to any individual or team assignments.
As befitting his extensive operational experience in recent years, Peavy has operated in a number of high and medium threat environments across the United States, Europe, the Middle East, Afghanistan and Iraq.
Courses Taught
CCW, Basic, Intermediate, Advanced, Rifle, Shotgun, Long Range Precision, Active Shooter Response Training, In Home Defense Training, Scenario Based Training, Women's Only Courses, Instructor Training Courses, LEO / MIL / SEC Courses, Security Training & Certification, Tactical Casualty Care (TCCC / TECC)
Class Instructors JD Miller Mathew Wynn
Certifications
US Department of State Firearms Instructor
US Department of State Protective Operations Instructor
US Department of State Tactical/Special Skills Insrtructor
US Department of State Resource Instructor
Special Operations Training and Consulting Firearms Instructor (40 Hour Course)
LOTC Director of Training Protective Detail Specialist (PDS0803006A)
US State Department Diplomatic Protection Specialist
US State Department Diplomatic Protection Advasive Driver Course
NC PPS Armed/Unarmed Isntructor
Policies
Cancellation Policy
Cancellation 48 Hours for Refund ($50 NON-Refundable - Administrative Fees)
Reschedule Policy
Reschedule with no penalities
Refund Policy
$50 NON-Refundable - Administrative Fees
Reviews