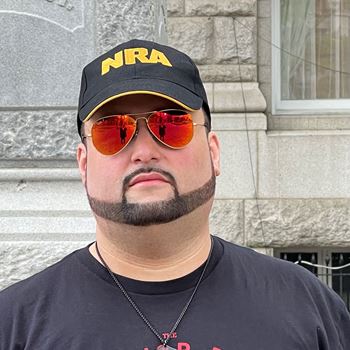 Red Dragon Self Defense USA
Albert Enriquez
BACKGROUND: Civilian, Instructor
10 Years Instructing
PH: 732 757 8800
Available Courses
Next Class
Course
Type
Difficulty

No Upcoming Classes


Contact Instructor
BASIC FIREARM SAFETY CONCEPTS

Basic, In Home Defense Training

Basic

No Upcoming Classes


Contact Instructor
BASICS OF KNIFE COMBAT

Basic, Other

Basic

No Upcoming Classes


Contact Instructor
COUPLES FIREARM SAFETY WITH LIVE-FIRE

Basic, In Home Defense Training

Basic

No Upcoming Classes


Contact Instructor
COUPLES PERSONAL RANGE INSTRUCTIONS

Intermediate

Intermediate

No Upcoming Classes


Contact Instructor
Firearms defense for Women W/ LIVE-FIRE

Basic, Intermediate, Women's Only Courses

Basic

No Upcoming Classes


Contact Instructor
INTRO TO AR-15 WITH LIVE-FIRE

Basic, Intermediate, In Home Defense Training, Scenario Based Training

Basic

No Upcoming Classes


Contact Instructor
INTRO TO PISTOLS WITH LIVE-FIRE

Basic, In Home Defense Training

Basic

No Upcoming Classes


Contact Instructor
KICKBOXING AND AIKIDO

Basic, Intermediate, Advanced, In Home Defense Training, Other

Basic

No Upcoming Classes


Contact Instructor
NRA BASIC PISTOL COURSE

NRA Courses

N/A

No Upcoming Classes


Contact Instructor
PERSONAL RANGE INSTRUCTIONS

Basic, Intermediate

Basic

No Upcoming Classes


Contact Instructor
PISTOL CLEANING BASICS

Basic, In Home Defense Training, Other

Basic

No Upcoming Classes


Contact Instructor
SELF-DEFENSE

Basic, Intermediate, Advanced, Women's Only Courses

Basic
About Red Dragon Self Defense USA
Who is Red Dragon? I'm Albert Enriquez, owner and founder of Red Dragon Self-Defense USA. I'm a martial artist, black belt. I've been practicing martial arts for over 20 years. I'm also a second amendment supporter and defender. I've always grown up with a love and passion for firearms. I've been shooting for a long time and grew up around guns. My grandfather was actually a worker for Army/Navy gun factory that recreated a lot of classic antique firearms. I want to help defend and secure everyone. In New Jersey, unfortunately, we live in a time where people don't feel as safe as they used to. They're scared and their second amendment rights are pretty heavily restricted. You walk down the street and you don't know if you can defend yourself from a potential attack. A lot of people don't even know what to do.
There's a lot of scary stuff going on right now. I want to make sure that I help as many people to be safe and secure and protected as possible. That's in a nutshell why I'm doing what I'm doing. I'm here to help you learn how to do self-defense and protect yourself, and your family. I offer a self-defense class, which will serve as an emergency go-to in your tool bag.
Depending on how quickly you learn, we can set up 4, 10, 12 classes. It all depends on you. We'll cater your training to how big you are, how fast you are, how strong you are. We will tailor the class to teach you realistic, actionable skills. I'm not going to teach you something that's never going to work. If you're five foot two, I'm not going to teach you how to flip a guy my size over your back, because it's not going to work. What I will do, however, is teach you how to be safe, get out of a bad situation, and get somewhere secure so that you can survive.
Getting away safely is what's important; living in a fantasy isn't and I think that's something a lot of people forget. It's nice to think that in an emergency, we all suddenly turned into Rocky Balboa or Bruce Lee, but we don't, and we're not going to – not without the right skillset. I also offer a martial arts training. That's primarily a combination of karate and aikido. Our classes are more heavily focused on the kickboxing or aikido, which are real world-applicable. If you want, you can do just the kickboxing or just the aikido. You can tell me, "Hey, I work in security, and I really need something that's more geared towards restraint because I don't want to hit somebody; I already know how to do that. I just don't want to get in trouble at work. I want to try to learn some more restraint techniques." We work with that too, but why do we want to, in most cases, have that blended class where you're learning both? Well, it's because we want to ensure that you learn both offense and defense. That's the right way to go about things, in my opinion; I've done a lot of the traditional martial arts.
I've done non-traditional coursework as well. There is a middle ground and it's not that hard to achieve. I want to help people to achieve this, because that's what brings about a good level of safety. With firearms training, I will set up the class wherever it is you want to host – it can be in your home, at work, or at a venue of your choosing. Red Dragon takes care of all of the safety work. Everything we do ensures a safe way and effective way to protect yourself. We go through all of the book-learning that's necessary. (By book learning, it's explaining to you what is, and isn't secure when operating your firearm.) For any actual shooting, we're going to do that at a local range, somewhere nearby – we operate in Bergen County, NJ, but can meet you wherever would be most convenient for your group -New York (NYC), or other parts of New Jersey!
We also specialize in training as it relates to firearm safety. We'll go over the proper ways to store your gun and weapons. We will prepare you for any dangerous situations in your home that you may want to be aware of or prepared for. Those scenarios are all practiced with a dummy firearm, to ensure the most safety while we're in your home.
We'll look at common scenarios, because it's important that you practice simple things. It can be something as simple as, where are you going to store your gun? How are you going to get to it? Let's practice that, and let's go through that step quickly. We can also help you with purchasing a firearm, because if you're going to order one online and send it to a store, you need to make sure you order one that's compliant with state regulations so that they don't charge you money to send it back, and then you get hit with that big restocking fee. We do all of that.The other thing that we offer is the NRA certified classes.
It's important that you're capable of protecting yourself because unfortunately, call for help, call for fast food and see who comes first.The only person who is obligated to protect you and your family is you and your family. The Supreme court has upheld that several times. The Supreme court has said the city, the police, the state have no obligation to protect your life. Feel free to fact check that – it has been upheld in several Supreme court cases. That's what we're here to do: we're here to give you the skillset to protect yourself, with a firearm, with your hands, your feet, whatever you need. We will always make sure that you're in compliance with the law, to the degree, that's necessary.
Feel free to give us a call, shoot us an email, whatever you prefer. If you just want to ask some questions, that's fine too! If you're thinking, "what do I need to know about owning a gun?" or "why should I learn self-defense" or even "what are the best self-defense techniques?" – hit us up.
We work with church groups, political organizations, and businesses who want to have somebody come in and do a training with some of their employees. We can set up a NRA class for a big group of people or for a small group of people. Everything is catered to you. If you just want somebody to come in and speak to your group about defense, or want to ask, "should I learn self-defense", we can help with that, too. We train you in firearm safety, firearm defense use, maintenance, shooting, cleaning as well as Martial Arts including Karate, Aikido, Kick Boxing, basic self-defense and women's self defense. Everything will be taught to you at your own pace and in the comfort of a location of your choosing  and in a fun and engaging way.
Courses Taught
Basic, Intermediate, Rifle, Shotgun, NRA Courses, In Home Defense Training, Scenario Based Training, Women's Only Courses, Seminars / Lectures, Combatives / Less Lethal, Other
Certifications
NRA certified Firearms Instructor 
Multiple Black Belts