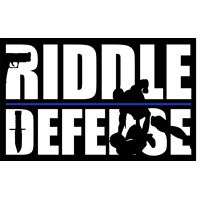 Intermediate Defensive Handgun Level 1
The next level to advance your shooting skills.
Duration: 6 hours
Fee: $249.00
Type(s): Intermediate
Instructor: RIDDLE DEFENSE - John Riddle View Bio
Description
In Defensive Handgun Level 1 the student will have an understanding of combative mindset, firearm safety, handgun nomenclature, and loading and unloading of the handgun. 

The student will have the opportunity to shoot at various distances,have a woring knowledge of   re-load drills, stoppage drills, communication and movement. 

At the end of the course the student will shoot a 10 stage standards drill on steel targets.
This course is a prerequisite to Defensive Handgun 2
Documentation Requirements
Valid Driver's License
The instructor requires a copy of your driver's license once you register.
Requirements
Required Equipment
-500 Rounds of Ammunition
-Handgun (semi - auto - revolver)
-Minimum of 2 Magazines or Speed Loader / Magazine Pouch
-OWB or IWB Holster
-Eye and Hearing Protection
-Sunscreen / Rain Gear
-Ball Cap / Long Sleeve Shirt / Long Pants / Belt / Closed Toe Shoes
-Hydration / Snacks
Topics Covered
-Combative Mindset
-Firearms Safety
-Handgun Nomenclature
-Load / Unloading
-Reload Drills
-Body Shift
-Stoppage Drills
-Standards Drill
Expectations and Outcomes
This course is the next step up from a CCW or Fundamantals class. After completing Defensive Handgun 1 you will have a good working knowledge of stoppage's and reloading and some basic movement drills

A certificate will be awarded at the end of this class.
Upcoming Classes
Saturday - 10/19/2019
10:00 AM to 4:00 PM
Okeechobee, FL
Instructor: John Riddle
Class Size: 5 - 12 Students
12 Spaces Left
Register