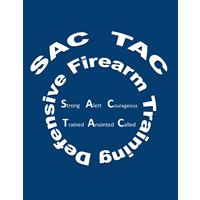 2 Day Basic Pistol
For Novice & Experienced Shooters
Duration: 2 Hour Classroom, 3 Hour Range
Fee: $110.00
Type(s): Basic, CCW, NRA Courses, USCCA Courses
Instructor: SAC Tactical- Defensive Firearm Training - Alan Sims View Bio
Description
Firday June 7th (Classroom) 7:00pm-9:00pm
Saturday June 8th, (Range) 9:00am-Noon
Documentation Requirements
The instructor requires a copy of your driver's license once you register.
Requirements
Basic Pistol Training Class
June 7th & 8th

Friday – 7:00pm Classroom at Abiding Love Church, 17644 County Road 26, Foley, Alabama 36535
Saturday - 9:00am You will be given directions to the range at the Friday class

If For some reason, you are not able to attend the Friday class, you will not be able to participate at the Saturday Range Day.


What To Bring To Class

1. Pen & Paper
2. Eye Protection*
3. Ear Protection**
4. Cap/Hat is suggested not required
5. Dress according to weather (on Saturday, we will be shooting rain or shine)***
6. If you have a firearm & holster that you want to use, bring it SATURDAY ONLY. If not, I will have a firearm for you to shoot.****
7. DO NOT BRING A FIREARM TO THE FRIDAY CLASS.
8. If you bring your own gun Saturday, you must bring at least 100 rounds of ammunition. Instructor will furnish ammunition if you shoot his firearms.
9. Insect Repellant
10. Sunscreen
11. Water/Drinks/Refreshments for hydration.


1 thru 7 above is mandatory

• * Eye Protection and **Ear Protection can be purchased at Academy or Walmart for under $25. (of course you can spend a lot more or less, depending on quality)
• *** Clothing (especially ladies on Range Day, do not wear low-cut tops because "hot brass" is HOT).
• **** If you bring your own firearm Saturday, It is subject to inspection by Instructor for approval to use. KEEP FIREARM UNLOADED UNTIL INSTRUCTED TO LOAD AND MAKE READY……….. NO EXCEPTIONS.


Classes will start ON TIME. Please arrive 15 - 30 minutes early
Topics Covered
Safety, Stance, Grip, Sight Alignment, Sight Picture, Trigger Press. Situational Awareness, Mindset, Tactics, Gear, Training Methodology. Which Firearm is right for you?
Expectations and Outcomes
Be able to safely handle a firearm, have the knowledge and ability to defend yourself and your loved ones in the event of a violent encounter.
Upcoming Classes
There are no upcoming classes scheduled for this course.