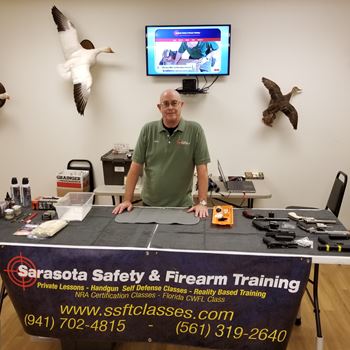 Sarasota Safety & Firearm Training
John Long
BACKGROUND: Civilian, Instructor
5 Years Instructing
PH: 941 702 4815
About Sarasota Safety & Firearm Training
John Long is the Owner and Founder of Sarasota Safety & Firearm Training located in Sunny Sarasota Florida.

I have been a Concealed Carry License holder for 38 years, and thankfully have never had to defend myself with Deadly Force.

I became an Instructor because I was concerned at the minimal level of Education and Training required to obtain your CWFL in both Georgia and Florida.

Situational Awareness is key to avoiding situations, so we include this along with the Legal aspects related to the Carry and use of any weapons to defend yourself.

The next goal is for the student to understand that the Firearm they choose use must be suited for the job at hand.

The firearm must FIT their hand, they must be able to operate ALL the controls, can they RACK the slide on a semi-auto pistol, can they manage the FELT RECOIL...

These are inportant because we do not want you to end up with a $300.00 - $600.00 brick sitting in your dresser draw that you hate, and will not train with.

I tailor classes to the needs and ability of students so they are successful in obtaining their desired goal.

I have trained students from the age of 10 all the way to 84 years of age.

My goal is your success......
Courses Taught
CCW, Basic, Intermediate, Rifle, NRA Courses, USCCA Courses, Active Shooter Response Training, In Home Defense Training, Scenario Based Training, Women's Only Courses, Seminars / Lectures, Specialty Other
Certifications
NRA CERTIFICATIONS:
Pistol
Personal Protection In The Home
Home Firearm Safety
Refuse To Be A Victim
Chief Range Safety Officer

USCCA CERTIFICATION:
Concealed Carry & Home Defense

GLOCK USA:
Certified GLOCK Armorer

US LAWSHIELD LEGAL DEFENSE PROGRAM:
District Field Representative

Policies
Cancellation Policy
Students may cancel any class with a two (2) day notification.
You have the option to reschedule up to (2) additional times if that helps you with your busy lifestyle and schedule.

See Reschedule and Refund Policy for additional information.
Reschedule Policy
We all have busy lives, and unexpected things pop up when we least expect it.
Because we understand...Pre-paid Classes may be rescheduled (2) additional times due to unforeseen circumstances.
A two (2) day notice would be appreciated whenever possible.

After missing the 3rd. appointment, all fees paid will be Forfeited.
Refund Policy
Refunds for Cancelled classes will be refunded to the method you used for payment.

There will be NO REFUNDS for students that fail to attend a class after (3) scheduled appointments.
Reviews