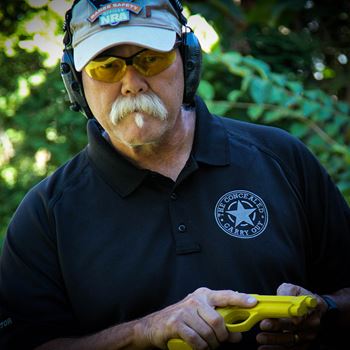 The Concealed Carry Guy
James Rollo
BACKGROUND: Civilian, Instructor
15 Years Instructing
PH: 513 544 5760
About The Concealed Carry Guy
Lead instructor James Rollo started The Concealed Carry Guy as a blog designed to help educate people about concealed carry and firearms in general.  With over forty years of experience shooting, competing, and educating fellow shooters, he felt the need to start live Concealed Carry and basic pistol classes as well as continuing private lessons.

As a lifelong learner himself he has accumulated 100s of hours in the classroom and many times that number on the range.
You will find him Knowledgable with a manner of instructing that makes learning easy and improvement rapid.

You will find that even our basic concealed carry class goes beyond the rudimentary skills and knowledge that the state requires to apply for your CHL. We discuss the conditions that are required under the law to even allow a self-defense claim. This is important knowledge that many concealed classes don't cover.

All of our classes are designed to be a low-stress high learning environment. New shooters as well as the experienced shooter will feel at home. 

If you have a group of 4 or more we can hold a class just for your group.        

I also hold private lessons.
Courses Taught
CCW, Basic, Intermediate, NRA Courses, Virtual Simulation, Seminars / Lectures, Combatives / Less Lethal
Certifications
NRA Pistol Instructor
NRA Range Safety Officer
Next level Concealed Carry
Critical casualty level 1 and 2
Mantis Elite Marksman
Defensive Shotgun
Single-Person Close Quarters Battle
Policies
Cancellation Policy
100% refund if canceled with 48 hours notice of class.
Reschedule Policy
Students may reschedule with 24 hours notice. 
Refund Policy
100% refund if canceled with 48 hours notice of class
Other Policy
Students should not bring firearms or live ammo to the classroom portion of your class. 
Reviews