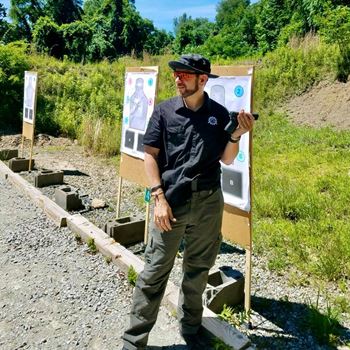 Trigger Pressers Union HQ LLC
Klint Macro
BACKGROUND: Civilian, Instructor, First Responder (Fire / EMS)
13 Years Instructing
PH: 818 618 8326
About Trigger Pressers Union HQ LLC
Klint Macro is a professional trainer, instructor, coach, author, pro-Liberty activist, founder of the Trigger Pressers Union, and most importantly, his family's first responder. Klint instructs fellow law-abiding citizens, offering defensive, safety, and marksmanship curricula. 

Klint trains and instructs 100's of students and instructor candidates across the country each year, offering a variety of courses from multiple National Training Organizations. These include I.C.E. Training, USCCA, NRA, UTM, NMLRA, CMP, Sabre, and Project Appleseed. 

Klint is one of a very small group of USCCA Senior Training Counselors and he is also an appointed Training Counselor for the USCCA's DSF (Defensive Shooting Fundamentals) Program.

Klint is an NRA Training Counselor* who was part of the team that helped to revamp the NRA Basics of Pistol Shooting Program in 2017 and he delivered the key note address at the NRA Trainer Update in Atlanta, GA that year.

?Klint is a regular contributor to Personal Defense Network and a PDN Training Tour Instructor.

?Klint has developed and produced content for NRA, USCCA, PDN, NMLRA, GOA, FOAC, Next Level Training, and for his company, The Trigger Pressers Union. 

Klint is also the Co-Administrator of National Train A Teacher Day, President of the Allegheny County Sportsmen's League, 2nd Vice President of Firearms Owners Against Crime, member of the International Association of Law Enforcement Instructors, Co-Host of "Meet The Pressers", and the voice of the L.A.S.R. software. 
Courses Taught
CCW, Basic, Intermediate, Advanced, Rifle, Shotgun, NRA Courses, USCCA Courses, In Home Defense Training, Scenario Based Training, Scenario Based Training (Simunitions, Man Marking Cartridge), Instructor Training Courses, Instructor Coach Training Courses, Seminars / Lectures, Other
Certifications
Co-Administrator of National Train A Teacher Day

USCCA Certifications: CCHDF SR Training Counselor, DSF Training Counselor, EFAF Instructor, CMST Instructor

I.C.E. Defensive Firearm Coach

NRA Practical Pistol Coach

NRA Certifications: Pistol (Basic and Advanced), CCW, Rifle, Shotgun, Personal Protection Inside The Home, Personal Protection Outside The Home, Home Firearms Safety, Refuse To Be A Victim, Range Safety Officer, Chief Range Safety Officer, Metallic Cartridge Reloading, Shotgun Shell Reloading, Certified Muzzleloader, Practical Pistol Coach Development Staff

Next Level Training Master Affiliate

NMLRA Trainer

U.T.M. Level 2 Instructor

Project Appleseed Marksmanship and Heritage Instructor (Red Hat)

CMP JROTC Marskmanship Instructor, GSM Master Instructor