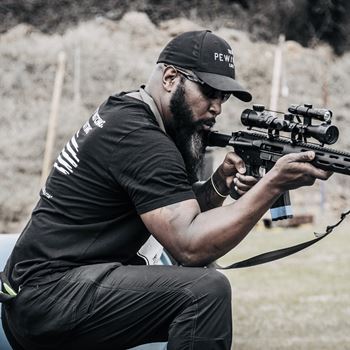 3-D Martial Arts & Tactical Defense
Larry Stevenson
BACKGROUND: Civilian, Former Law Enforcement, Instructor
25 Years Instructing
PH: 903 200 5390
About 3-D Martial Arts & Tactical Defense
LARRY STEVENSON, Aka "The Bearded Black Cowboy"
Larry is a Former Gang Unit, SWAT/K9 Officer and Law Enforcement Officer Survival Skills Trainer, and specializes in Close Quarter Combat, Tactical Firearms and Hand-to-Hand Combat instruction.
Larry Stevenson AKA "The Bearded Black Cowboy" is a resounding community and national voice, preacher, teacher and motivational speaker; specializing and being sought after to speak on the topics of community, police, faith, family, fatherhood, U.S. Constitution Amendments 1 & 2, American History and leadership beyond color.
In the field of Martial Arts, Larry is considered among his peers as "a teacher's-teacher" or simply put SiGung, a Chinese term meaning, "a master's master." A multiple-time State, National and International Karate Champion in bare-knuckle full-contact, no pads-no gloves competition.
Larry is a full-contact (bare-knuckle) kick-boxing, international kick-boxing, professional boxing and mixed martial arts Champion and Coach.
- Former Police Officer
- Former Gang Unit Officer
- Former SWAT/K-9 Officer
- Officer Survival Skills Trainer
- Verbal Deescalation and Tactical Communications Trainer
- 1994 First to introduce and train a major metropolitan police department (Denver Police Department) to Ground Fighting Techniques Utilizing Gracie Jiu-Jitsu, while combining Robert Koga arrest control techniques both on compliant and resistant individuals.
- Expert at Close Quarters Combat Survival techniques
- Defense Against Edged Weapons Trainer
- Specializes is Weapons Retention and Weapons Access
- Specializes in Drawing and Accessing Weapon (handgun) from Unorthodox Positions
- Specializes in In-Fight Access, Control and Retention of Weapons
- Specializes in Active Shooter Response with a niche in: Empty Hand Weapons and Suspect Forced Malfunction and Subduing Techniques
- Owner & CO-Founder of 3D Martial Arts & Tactical Defense School
Courses Taught
CCW, Basic, Intermediate, Advanced, Rifle, Long Range Precision, NRA Courses, Active Shooter Response Training, In Home Defense Training, Scenario Based Training, Scenario Based Training (Simunitions, Man Marking Cartridge), Women's Only Courses, Instructor Training Courses, Instructor Coach Training Courses, Virtual Simulation, Seminars / Lectures, Security Training & Certification, Specialty Other
Certifications
NRA Certified Instructor
Policies
Cancellation Policy
Refunds are not transferable, or issued if you simply change your mind, however 3-D Martial Arts & Tactical Defense (3DMATD) recognizes that, from time to time, a change in circumstances may prevent you from attending an event for which you have registered. Accordingly, there is no penalty for attendee registration cancellations received on or before the date 90 days prior to the first day of the event. However, 3DMATD is not responsible for conditions beyond our control, including but not limited to weather conditions, venue property conditions, travel difficulty, etc.
Should you discover that you are unable to attend on a date inside the 90-day refund cut off, you may transfer your registration to another designated attendee or apply the registration payment toward any other 3DMATD event which you are eligible to attend that occurs within 12 months following the originally scheduled event. However, requests to have paid registration fees applied new event must be received no less than 15 days prior to the opening date of the subsequent event.
All registration alterations or cancellations must be requested in writing via e-mail no less than 48 hours before the beginning of the event. Requests should be sent to customersupport@3dmatd.com. All requests must include your name, and the full name of the event that you are registered for.
Reschedule Policy
Should an Event be cancelled or postponed due to unforeseen circumstances, 3DMATD will endeavor to process a full refund within 60 days of such circumstances becoming known.
Refund Policy
There are no refunds on services rendered. All sales are final.
Reviews