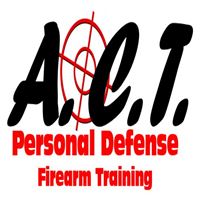 Defensive Pistol/CCW level 2
Learn to protect yourself and family with a firearm
Duration: 8 hours classroom and range time
Fee: $175.00
Type(s): Advanced, CCW, NRA Courses, USCCA Courses
Instructor: ACT Personal Defense LLC - Wayne Lanier View Bio
Description
The Defensive Pistol Course will focus on the techniques needed to develop a concealed carry CCW defensive mindset. The goal of the course will be to develop the knowledge, skills, and attitude necessary to carry and use a concealed firearm ethically, responsibly, and with confidence. 

This is an eight-hour course. Students should expect to shoot approximately 200 rounds of ammunition. Students will learn basic defensive shooting skills, strategies for home safety and responding to a violent confrontation, firearms and the law, how to choose a handgun for self-defense, and continued opportunities for skill development.


Documentation Requirements
This course is for experienced shooters - shooters must be able to show mastery of the basic skills of safe gun handling and shooting a group. Prospective participants can demonstrate that they have the requisite knowledge, skills, and attitudes by producing one of the following;

NRA Basic Pistol Shooting Course Certificate
NRA FIRST Steps Course Certificate
NRA pistol competitive shooting qualification card
Military DD 214 with pistol qualificationt
USCCA Pistol Shooting Course Certificate
Requirements
This course is open to all US citizens
Students must bring their own firearm and ammunition

Make sure you bring an unloaded firearm into the Training Center. I'll perform a firearm safety check to make sure it is safe to handle.
Here is a list of items you need to bring to training;

A notebook or paper to take notes on
A pen and highlighter
Eye and ear protection
Your pistol and ammunition 
Topics Covered
How to apply the Rules for Safe Gun Handling
Carrying a concealed firearm
Basic principles of concealment
Difference between cover and concealment
Drawing from the holster
Levels of mental awareness
Developing the proper mindset when using a pistol for personal protection
Clearing common stoppages
Use of pocket pistols, and more.
Expectations and Outcomes
Students participating in this course, will be able to explain and demonstrate the following;

How to apply the Rules for Safe Gun Handling when carrying a concealed firearm, basic principles of concealment, the difference between cover and concealment, drawing from the holster, levels of mental awareness, developing the proper mindset when using a pistol for personal protection, clearing common stoppages, use of pocket pistols. Students will have the basic understanding necessary to be able to protect themselves and their families.
Upcoming Classes
Saturday - 2/29/2020
8:00 AM
Flowery Branch, GA
Instructor: Wayne Lanier
Class Size: 1 - 6 Students
6 Spaces Left
Register
Saturday - 5/30/2020
8:00 AM
Flowery Branch, GA
Instructor: Wayne Lanier
Class Size: 1 - 6 Students
6 Spaces Left
Register
Saturday - 8/29/2020
8:00 AM
Flowery Branch, GA
Instructor: Wayne Lanier
Class Size: 1 - 6 Students
6 Spaces Left
Register
Saturday - 10/31/2020
8:00 AM
Flowery Branch, GA
Instructor: Wayne Lanier
Class Size: 1 - 6 Students
6 Spaces Left
Register