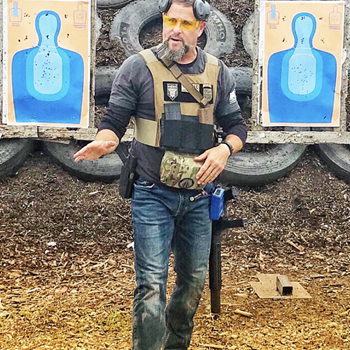 Briggs Core Dynamics
Scott Wealing
BACKGROUND: Military, Former Military, Law Enforcement, Instructor, Gov't Employee / Contractor
20 Years Instructing
PH: 407 919 8215
Available Courses
Next Class
Course
Type
Difficulty

No Upcoming Classes


Contact Instructor
BRM (Basic Rifle Marksmanship)

Basic, Rifle, LEO / MIL / SEC Courses

Basic

No Upcoming Classes


Contact Instructor
Carbine 1

Intermediate, Rifle, LEO / MIL / SEC Courses

Intermediate

No Upcoming Classes


Contact Instructor
Carbine 2

Intermediate, Advanced, Rifle, Scenario Based Training, LEO / MIL / SEC Courses

Intermediate

No Upcoming Classes


Contact Instructor
Carbine Rifle Stress

Intermediate, Advanced, Rifle, Scenario Based Training, LEO / MIL / SEC Courses

Intermediate

No Upcoming Classes


Contact Instructor
Covert Carry 1
An essential course if you carry.
Basic, Intermediate, Women's Only Courses

Basic

No Upcoming Classes


Contact Instructor
Covert Carry 2

Basic, Intermediate, CCW, Scenario Based Training, LEO / MIL / SEC Courses, Scenario Based Training (Simunitions, Man Marking Cartridge), Tactical Casualty Care (TCCC / TECC)

Basic

No Upcoming Classes


Contact Instructor
Covert Carry 3

Basic, Intermediate, Advanced, CCW, Scenario Based Training, LEO / MIL / SEC Courses, Scenario Based Training (Simunitions, Man Marking Cartridge)

Basic

No Upcoming Classes


Contact Instructor
Firearms Safety

Basic

Basic

No Upcoming Classes


Contact Instructor
HAIT/Active Shooter Response

Advanced, Rifle, Active Shooter Response Training, In Home Defense Training, Scenario Based Training, LEO / MIL / SEC Courses, Scenario Based Training (Simunitions, Man Marking Cartridge)

Advanced

No Upcoming Classes


Contact Instructor
Night Vision

Basic, Rifle, LEO / MIL / SEC Courses

Basic

No Upcoming Classes


Contact Instructor
Pistol & Carbine

Intermediate, Advanced, Rifle, LEO / MIL / SEC Courses

Intermediate

No Upcoming Classes


Contact Instructor
Skills & Drills
How does physical stress effect your sho…
Basic, Intermediate

Basic

No Upcoming Classes


Contact Instructor
Traumatic Wound Care

Basic, Intermediate, LEO / MIL / SEC Courses, Tactical Casualty Care (TCCC / TECC)

Basic

No Upcoming Classes


Contact Instructor
VCAT Vehicle Counter Assault Training

Intermediate, Advanced, Rifle, Scenario Based Training, LEO / MIL / SEC Courses, Scenario Based Training (Simunitions, Man Marking Cartridge)

Intermediate
About Briggs Core Dynamics
Scott served as an Army Ranger (Long Range Surveillance/LRS) with 15 years Military experience. Scott has spent over 2600 days deployed to Iraq and Afghanistan both while in the Military and as a Protective Agent. His military training includes Ranger, Long Range Surveillance Leadership Course, Airborne, Air Assault, Survival, Tracking/Counter Tracking, and Drill Sergeant. He also trained as an Explosive Ordnance Disposal Technician. After the Military, he served as a PSD/Protective Agent for L. Paul Bremer during his term as Ambassador in Iraq in 2003; and continued to conduct protective operations for various intelligence agencies and NGO's in Iraq, Afghanistan and the Democratic Republic of the Congo until 2013. Scott continues to provide executive protection for celebrities, executives and high net worth families. He has vast experience in conducting site surveys and vulnerability assessments for government and non-government organizations all over the globe. He is a qualified Firearms instructor through the Indiana Law Enforcement Academy and has trained Secret Service Agents, FBI Agents, Local Law Enforcement, US Military Special Operations Personnel as well as Military Conventional Forces, both US and Allied Nations. Scott also enjoys teaching Firearm Safety to all ages and skill levels.
Courses Taught
Basic, Intermediate, Advanced, Rifle, Active Shooter Response Training, In Home Defense Training, Scenario Based Training, Scenario Based Training (Simunitions, Man Marking Cartridge), Women's Only Courses, Instructor Training Courses, Instructor Coach Training Courses, LEO / MIL / SEC Courses, Tactical Casualty Care (TCCC / TECC), Other
Policies
Cancellation Policy
It is our desire to serve our students and customers to the very best of our ability and to the highest standards of excellence. This page explains our policies on issuing refunds.

Refunds will be issued in the same manner as payment. If payment was via credit card, refund will be issued to the card used. If payment was by check, refund will be by check.
For all training courses, payment is due in full to reserve a seat in the course unless specifically stated otherwise.
If a student cancels their seat in the course more than 7 days from course date, a full refund will be issued.
If a student cancels their seat in the course less than 7 days from course date, a 50% refund will be issued.
No refunds for course seats will be issued on or after the date of the course.
Students who are removed from a course for any reason, as stated in our hold harmless agreement, will not be issued a refund for their course fees.

If for any reason a course is canceled, students will receive a full refund promptly at the time of cancellation as well as notice of the cancellation as soon as possible.