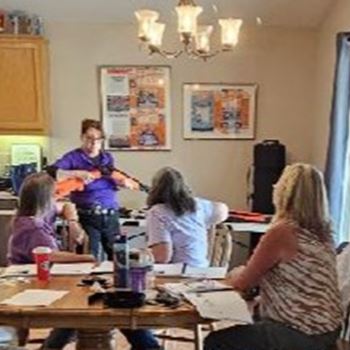 DAFAST (Dee Adams Fire Arms Safety Training)
Dee Adams
BACKGROUND: Instructor
9 Years Instructing
PH: 916 838 4926
Available Courses
Next Class
Course
Type
Difficulty

No Upcoming Classes


Contact Instructor
Basic Firearms & Safety Training
Fundamentals of Pistol Shooting, Defensi…
Basic, Intermediate, NRA Courses, USCCA Courses

Basic

No Upcoming Classes


Contact Instructor
CCW Preparation
Skill and confidence Building class to g…
Intermediate, Advanced, NRA Courses, USCCA Courses, Long Range Precision

Intermediate

No Upcoming Classes


Contact Instructor
Concealed Carry 16 hours Sacramento
Initial CCW for 16 Hour classes on Zoom…
Advanced, CCW, NRA Courses, USCCA Courses, Seminars / Lectures

Advanced

No Upcoming Classes


Contact Instructor
Concealed Carry 8-Hour
CCW Initial Permit for the following cou…
Advanced, CCW, NRA Courses, USCCA Courses

Advanced

No Upcoming Classes


Contact Instructor
Concealed Carry Renewal 4 hour
Sacramento, Yolo, Yuba, Sutter, Colusa a…
Advanced, CCW, NRA Courses, USCCA Courses

Advanced

No Upcoming Classes


Contact Instructor
Firearms and the Family - Safety in the home!
Information every family should have if…
Basic, Scenario Based Training, Seminars / Lectures

Basic

No Upcoming Classes


Contact Instructor
NRA Range Safety Officer
NRA Range Safety Officer Credentials
Advanced, NRA Courses, Specialty Other

Advanced

No Upcoming Classes


Contact Instructor
Private Fundamentals Range Time 2 - 3 hours
Sacramento, Yolo, Yuba, Sutter, Colusa a…
Basic, Intermediate, Advanced, NRA Courses, USCCA Courses

Basic
About DAFAST (Dee Adams Fire Arms Safety Training)
Dee Adams is a retired application developer with a passion for teaching Firearms, Safety and Practice for all gun owners.  I welcome new gun owners and even those looking to purchase their first firearm.  As a 2nd Amendment advocate she is active in the community and has launched Armed Women of America (AWA), Yuba/Sutter area.  AWA meets monthly where they train EVERY month teaching women to be safe, alert, aware and responsive to any possible threat.  Preparing women and children for responsible gun ownership is a passion for this company and thier philosophy is that 'practice' is required for any and all gun owners.

She teaches Fundamental Hand Guns for Beginners and Advanced Shooters as well as a a Family and Firearms Safety course.  She is approved to teach Concealed Carry courses in Yuba County, Sutter County, Sacramento County, Colusa County, Yolo and Placer County.  Dee has studied the NRA Range Management Courses and volunteers as an RSO at a local non-profit club.  Twin Cities Rod & Gun Club in Yuba City, CA where they host Armed Women of America, Yuba / Sutter Chapter.

Recently she formed a Church Security Team at her church and now instructs for Active Shooter Response Training.

While my focus is mainly on Safety and the Family, she offers classes for only $10 to local residents. She also teaches CA Hunter Education and has for 5 years.
Courses Taught
CCW, Basic, Intermediate, Advanced, Rifle, Shotgun, NRA Courses, USCCA Courses, Active Shooter Response Training, In Home Defense Training, Scenario Based Training, Women's Only Courses, Private Classes (Group / Individual), Virtual Simulation, Seminars / Lectures, D.R.A.W. Academy Courses, Specialty Other
Certifications
NRA Pistol Instructor
NRA Shotgun Instructor
NRA Rifle Instructor
NRA Chief Range Safety Officer
NRA Range Management Professional
NRA Personal Protection In The Home
USCCA Pistol Instructor
USCCA Women Pistol Instructor
California Hunter Education Instructor
The Well Armed Woman Instuctor
Armed Women of America Chapter Leader/Instructor
NRA RTBAV Instructor
Draw Acadamy Instructor
Off Body Carry Instructor
Certified Sheepdog Church Security Team Leader
Active Shooter Response Instructor
Policies
Cancellation Policy
Once we cancel a course you will be enrolled in the next available course that meets your needs.  Refunds are by request only and will be considered.  For refund consideration contact Dee Adams at dafastraining@gmail.com
Reschedule Policy
If life happens...Let us know! You can reschedule into the next available class anytime.
Refund Policy
Please contact Dee Adams at 916-838-4926 or dafastraining@gmail.com. 



Other Policy
Every student must be TEACHABLE, open to learning, possibly new ways, new ideas, and new concepts. The safety of every person at the course must be made a priority. If anyone violates one of those safety rules listed below, you will be asked to leave. There is no room for error on the topic of safety and your funds will not be reimbursed.
1) Treat All Firearms as if they are loaded. ALWAYS
2) Never EVER Muzzle (point the firearm) at anything that you can destroy. Including yourself.
3) Keep you finger out of the trigger guard until a) you have your target aligned with your sights b) you have made the decision to shoot.
4) Know what is around and beyond your target. 


Waiver
Student full name __________________________

For and in consideration of permitting Delores Adams, D.B.A. "D.A.F.A.S.T." to engage in certain activities described as follows:  Firearms Safety and Instruction, all actions or causes of action for personally injury, property damage or wrongful death occurring to himself/herself arising as a result of engaging in the activities described above or any activity incidental thereto, wherever or however it may for himself/herself, his/her heirs, executors, administrators and assigns, release waive discharge and relinquish any action or cause of action which may arise in the circumstances will he/she or his/her heirs, executors, administrators and assigns wrong death against DELORES ADAMS  D.B.A. "D.A.F.A.S.T" or any agent, servants or employees of any of the persons mentioned above for any cause of action, whiter it arises by the negligence of any of the persons or otherwise. 
IT IS THE INTENTION for the STUDENT BY THIS DOCUMENT TO EXEMPT AND RELIEVE DELORES ADAMS, D.B.A. "D.A.F.A.S.T"  FROM LIABILITY OF PERSONAL INJURY, PROPERTY DAMAGE OR WRONGFUL DEATH CAUSED BY NEGLIGENCE.
            The undersigned for himself/herself, his/her heirs, executors, administrators or assigns agrees that in the event of any claim for personal injury, property damage or wrongful death that in the event any claim for personal injury, property damage or wrongful death shall be pursued, prosecuted or presented against the person or parties released by this document, he/she shall indemnify the release party or parties for all expenses including attorney's fees and costs as well as any damages from any and all claims or causes of action by whomever or wherever made or presented for personal injuries, property damage or wrongful death.
            The person signing this document acknowledges that he/she has read it and understands it.  Further, the person signing this document understands that the consideration or reason that the person or parties being released agree to participate in the activities is in part the signing of this document.  The person signing this document understands there are certain potential dangers incidentals to the activity mentioned in this agreement.  Full opportunity has been provided to consider those risks.  The persons signing this document are aware of the legal consequences of the signing.
Signature:                                                                                              .   DATED:                              .
Witnessed by:                                                                                       .   DATED:                             .

Please print and sign with witness signatures prior to attending the course.
Frequently Asked Questions
Do I need to bring a firearm to get basic Firearms Training?  No! You should not bring a firearm to a basic course. I will provide any tools and firearms that are Inert!  

Can I bring my firearm if I have my CCW?  You of course are allowed to have your CCW with you on your trip to the course.  However, please don't being it into the classroom.  We have a NO AMMO Policy inside the classroom that MUST BE ADHERED to. 


Reviews