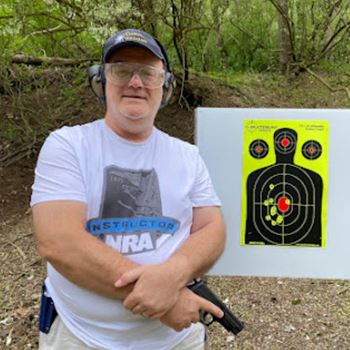 Dakota Firearms Training Academy
Gary Wolf
BACKGROUND: Civilian, Instructor
7 Years Instructing
PH: 610 340 2755
Available Courses
Next Class
Course
Type
Difficulty

Next class: Dec 2


See Classes
Basic Pistol
An introductory class for first time gun…
Basic, NRA Courses, Private Classes (Group / Individual), Church / Business - Safety / Security

Basic

Next class: Dec 2


See Classes
Basic Pistol & Concealed Carry
An introductory class for first time gun…
Basic, CCW, NRA Courses, Private Classes (Group / Individual), Church / Business - Safety / Security

Basic

Next class: Dec 2


See Classes
Basic Pistol - Women Only
An introductory class for women gun owne…
Basic, NRA Courses, Women's Only Courses, Private Classes (Group / Individual), Church / Business - Safety / Security

Basic

Next class: Dec 2


See Classes
Concealed Carry
An introductory class into the world of…
Intermediate, CCW, NRA Courses, Private Classes (Group / Individual), Church / Business - Safety / Security

Intermediate

No Upcoming Classes


Contact Instructor
Defensive Shooting
An advanced class designed to teach stud…
Advanced, CCW, USCCA Courses, Private Classes (Group / Individual)

Advanced

Next class: Jan 20


See Classes
Live Fire Shooting
Take your Basic Pistol class skills to t…
Basic, NRA Courses, Private Classes (Group / Individual)

Basic
About Dakota Firearms Training Academy
Dakota Firearms, LLC, is a family-owned and operated firearms training academy serving Philadelphia and all of southeast Pennsylvania. Founded in 2016 after the horrific Pulse nightclub massacre, Dakota Firearms offers classroom and live fire training by NRA certified instructors at competitive prices. We cater to both experienced and novice shooters, with an emphasis on first time women shooters. We strive to provide superior customer service and education to our clients. Our knowledgeable staff is ready to assist in selecting the right training services for each individual's needs. We are proud to have become a trusted source of knowledgeable firearms training in southeast Pennsylvania.
Courses Taught
CCW, Basic, NRA Courses, Women's Only Courses, Private Classes (Group / Individual), Seminars / Lectures
Policies
Cancellation Policy
If you need to cancel a class, we require that you cancel at least seven (7) days before a scheduled class, via email only to info@dakotafirearms.net. If you have to cancel your class, we will offer you a credit to your account which will be valid for one (1) year from the date you cancel. If the credit is not used with one (1) year, it will become null and void. If you cancel less than seven (7) days before a scheduled class, you will be given credit of 50% of the course fee.  If you cancel within 48 hours before a scheduled course or you are a no show to a course, no credit will be offered - No Exceptions.

If any instructor cancels a class, you will be given a full refund. (See refund policy)
Reschedule Policy
If you need to reschedule a class, please read the Cancellation Policy and email us at gary@dakotafirearms.net. We will gladly reserve your seat in a future class upon notifying us.
Refund Policy
No refunds are given if the student cancels the class. If the instructor cancels the class, a full refund will be given within seven (7) business days via corporate check.
Other Policy
All class locations will be initially listed as "TBD" until at least two students have registered for the class, since our public classes are held in prepaid hotel meeting rooms. After students have registered and a hotel meeting room secured, students will be advised of the location within southeast Pennsylvania.
Waiver
In return for being admitted into firearms training classes, either indoor classroom training or live fire training at any indoor or outdoor gun range, and being permitted the use of all facilities secured by Dakota Firearms, LLC for training purposes, hereinafter referred to simply as "Dakota Firearms," customer hereby agrees to waive any and all liability and hold harmless Dakota Firearms, its officers, members, employees, volunteers; any owner, manager, employees of the classroom training facility; and any owners, officers, board members, managers, employees, members and volunteers of any indoor or outdoor gun ranges secured for training use by Dakota Firearms, on account of any injury, illness, death or damage that may result from customer's use of the classroom or gun range facilities.
The term "facilities" in this agreement includes, but is not limited to, any classroom, meeting or conference room for indoor classroom training and any indoor or outdoor gun range for live fire training that Dakota Firearms has received permission to use on behalf of Dakota Firearms customers.
Customer further acknowledges that Dakota Firearms reserves the right to use any photograph/video taken at any event sponsored by Dakota Firearms, without the expressed written permission of those included within the photograph/video. Dakota Firearms may use the photograph/video in publications or other media material produced, used or contracted by Dakota Firearms including but not limited to: brochures, invitations, books, newspapers, magazines, television, websites, etc. To ensure the privacy of individuals and children, images will not be identified using full names or personal identifying information without written approval from the photographed subject, parent or legal guardian. A person attending a Dakota Firearms event who does not wish to have their image recorded for distribution should make their wishes known to the event organizers, and/or contact Dakota Firearms at 323 Hawthorne Avenue, Gilbertsville, PA 19525, in writing of his/her intentions and include a photograph. Dakota Firearms will use the photo for identification purposes and will hold it in confidence. By participating in a Dakota Firearms event or by failing to notify Dakota Firearms, in writing, your desire to not have your photograph used by Dakota Firearms, you are agreeing to release, defend, hold harmless and indemnify Dakota Firearms from any and all claims involving the use of your picture or likeness. Any person or organization not affiliated with Dakota Firearms may not use, copy, alter or modify Dakota Firearms photographs, graphics, videography or other, similar reproductions or recordings without the advance written permission of an authorized designee from Dakota Firearms.
Customer further acknowledges that the use of firearms is, by its very nature, a dangerous activity that could result in injury or death, and customer affirmatively assumes all the risk from participation in such activities on Dakota Firearms sponsored training facilities.
Customer further acknowledges that for indoor classroom training purposes, no live ammo will be in customer's possession, either in customer's gun, customer's gun case, customer's gun holster or on customer's person, and that only "dummy" ammunition, commonly referred to as "snap caps" will be used instead, and that customer's failure to abide by this rule will result in an immediate expulsion of customer from the class.
Customer further understands and agrees that customer shall abide by all the Rules and By-Laws of any live fire gun range used by Dakota Firearms, and all Laws of the Commonwealth of Pennsylvania while customer is using Dakota Firearm's sponsored classroom and range facilities, and that customer's failure to do this shall result in customer being barred from classroom and range facilities.
Frequently Asked Questions
Can I bring my own personal handgun to use in the classes?
Absolutely, provided there is no live ammo in your gun, in the magazine or on your person. The gun will be inspected upon your arrival. If live ammo is found, you will be asked to take all live ammo to your car, and if you refuse, will be asked to leave. Your personal handgun is not needed for the Defensive Shooting class.
Can children under 18 attend classes?
Absolutely, provided a parent/guardian is the registered student, their children can attend the same class. We believe it is paramount that children get trained properly from an early age, and thus, children under 18 are free of charge with a paying parent/guardian. Dakota Firearms is planning to have training classes geared for children between the ages of 12 and 18.


How do you train someone who has never held or shot a handgun?
Such students are our ideal students. Dakota Firearms Training Academy uses laser trainers because they shoot a laser beam onto a target and are 100% safe.

Are these classes available in a private setting?
Yes, they are. These classes can be taught in the family room of a private home, a business conference room, or even a church basement. Dakota Firearms requires a minimum of five (5) students attending to hold classes in a private setting. The only things Dakota Firearms require are a method to project a slide deck (PowerPoint) onto a white vertical surface (or connect into a flat screen TV via HDMI), a table to set down our firearms, and a small space where students can practice actual techniques. Contact Dakota Firearms for more information about your specific venue.


Are all classes taught at Dakota Firearms Training Academy Office?
No. But our office is great for small class sizes, which provides for greater interaction between students and the instructor.

Do you do "live fire" training at a range?
Yes, to an extent. Each range in our local area has its own "house instructor", but Dakota Firearms Training Academy is not one of them...yet. Most of these ranges allow and limit us to bringing one or two students with us. But the student must pay the range fee and sign any liability waiver the range may impose independently of Dakota Firearms Training Academy liability waiver. We attempt to use ranges which have local pubs nearby so students and instructors can go for beer and wings at the conclusion of range time. 


What benefits do students get out of the classes?
Our #1 goal is safety. At the end of the class the student will have learned how to safely and responsibly handle and operate handguns, and will be issued a Certificate of Completion attesting to that. There are additional benefits afforded to students at the conclusion of the class. Every person buying a gun has to go through a background check through a Federal Firearms Licensee (FFL). Dakota Firearms Training Academy is also an FFL. We also sell guns online. If a student purchases a gun through our online store, the background check fee is waived, normally a $35 value. If the student purchases a gun from another online retailer and uses Dakota Firearms Training Academy to process the transfer, the student receives a $10 discount on the background check fee. There are other post-class benefits as well, which we review with students at the end of classes.


Does Pennsylvania require a certification class to obtain a concealed carry permit?
No, Pennsylvania does not require a certifiation class. This means that students attending our Concealed Carry class WANT to be there to become the best concealed carry law-abiding gun owners they can be.


Do you have a web site?
Absolutely. Click here:  dakotafirearms.net

Reviews