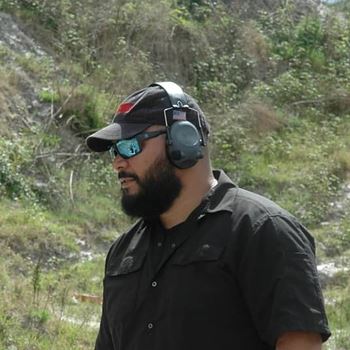 Defensive Marksmanship Instructor Group (DMIG)
Israel Matos
BACKGROUND: Civilian, Military, Former Military, Law Enforcement, Former Law Enforcement, Instructor, Gov't Employee / Contractor
10 Years Instructing
Available Courses
Next Class
Course
Type
Difficulty

No Upcoming Classes


Contact Instructor
Combative Marksmanship 1

Intermediate, Advanced, Rifle, Shotgun, Specialty Other

Intermediate

No Upcoming Classes


Contact Instructor
Combative Marksmanship 2

Intermediate, Advanced, Rifle, Scenario Based Training, LEO / MIL / SEC Courses, Specialty Other

Intermediate

No Upcoming Classes


Contact Instructor
Combative Marksmanship Skill Builder

Basic, Intermediate, Rifle, Shotgun, Specialty Other

Basic

No Upcoming Classes


Contact Instructor
Couples Combative Marksmanship Skill builder

Basic, Intermediate, Advanced, Rifle, Shotgun, Specialty Other

Basic

No Upcoming Classes


Contact Instructor
Private group training
Message for scheduling
Basic, Intermediate, Advanced, CCW, Rifle, Shotgun, NRA Courses, USCCA Courses, USA Carry Courses, Active Shooter Response Training, In Home Defense Training, Scenario Based Training, Women's Only Courses, Instructor Training Courses, Instructor Coach Training Courses, LEO / MIL / SEC Courses, Specialty Other, Virtual Simulation, Long Range Precision, Seminars / Lectures, Scenario Based Training (Simunitions, Man Marking Cartridge), Tactical Casualty Care (TCCC / TECC), Security Training & Certification, Combatives / Less Lethal

Basic
About Defensive Marksmanship Instructor Group (DMIG)
We are a group of firearms instructors with different backgrounds, from different branches of the military and law enforcement communities, from SF to SWAT, with a combined experience of 20+ years. We believe training, no matter how advanced, should be simple, effective and geared towards the situations you are more likely to encounter. For reviews and more, go to https://www.facebook.com/Dmigtraining/.
Courses Taught
CCW, Basic, Intermediate, Advanced, Rifle, Shotgun, Long Range Precision, Active Shooter Response Training, In Home Defense Training, Scenario Based Training, Scenario Based Training (Simunitions, Man Marking Cartridge), Women's Only Courses, Instructor Training Courses, Instructor Coach Training Courses, LEO / MIL / SEC Courses, Virtual Simulation, Seminars / Lectures, Tactical Casualty Care (TCCC / TECC), Specialty Other
Class Instructors Dave "Boone" Benton Ian McDaniel Jason Bates
Certifications
NRA Tactical Law Enforcement Instructor course
NRA Pistol Instructor
NRA Personal Protection in the Home Instructor
Primary and Combat Marksmanship Coach (0931)
Primary and Combat Marksmanship Trainer (0933)
Marine Corps Foreign Weapons Instructor Course (November 2009)
Combat Marksmanship Presentation course
Foreign Weapons Instructor Course (FWIC)
Marine Corps Martial Arts Brown Belt (August 2010)
Policies
Cancellation Policy
All cancellations made prior to class date will result in forfeiting the mandatory deposit fee (25% of total course costs). Full tuition payment is due 24 hours before class begins, unless other arrangements are made prior. Cancellation, within 24 hours of class, will result in forfeiture of payment and issuance of a makeup "raincheck" class voucher. DMIG will make reasonable efforts to reschedule classes, due to emergencies, that may prevent students from attending.
Reschedule Policy
Please see "Cancellation Policy".
Refund Policy
Please see "Cancellation Policy".
Waiver
RELEASE OF LIABILITY
READ EACH ITEM CAREFULLY, THEN INITIAL WHEN DONE.

1.   I am familiar with basic firearm safety rules and understand the importance of following them diligently. _______

2.   I hereby attest that I will follow all safety rule while training at the Nail Ranch, under the instruction of Defensive Marksmanship Instructor Group. _______
3.   I understand that I am solely responsible for any damage to any portion of the training facility or its equipment, and/or injury to myself and/or any other person, due to any personal negligence or purposeful actions on my part. _______
4.   I understand that this is a live-fire training class, and that I am about to engage in various shooting exercises that require my close attention and concentration for safety's sake. I attest that I am mentally and physically able to train in such an environment. I also understand that handling, loading, and discharging firearms is an activity that requires exceptional personal diligence, and I always agree to yield to the direction and commands of the instructor(s) while training today. _______
5.   I attest that I am not under the influence of any drugs (including prescription) or alcohol. _______
READ AND INITIAL AFTER EACH PARAGRAPH, THEN SIGN AT THE BOTTOM.
RELEASE FROM LIABILITY
In consideration, for being allowed to participate in this firearm training class, I release from liability and waive my right to sue Israel Matos, Defensive Marksmanship Training Group, the Nail Ranch, and any volunteers and agents from any and all claims of negligence, resulting in any physical injury, illness (including death), or economic loss I may suffer or may result from my participation in this activity, travel to and from the activity (including air travel), or any events incidental to this firearm training class. _______
EXPRESSED ASSUMPTION OF RISK
I am voluntarily participating in this firearm training class. I understand that there are risks associated with my participation in this activity, such as physical and/or physiological injury, pain, suffering, illness, disfigurement, temporary or permanent disability, death, or economic loss. These injuries or outcomes may arise from my own or other's actions, inactions, or negligence, or the condition of the activity's location(s) or the facility. Nonetheless, I assume all risks of my participation in this firearm training class, whether known or unknown to me, including travel to and from the firearm training class (including air travel) or any events incidental to this activity. _______
HOLD HARMLESS
I agree to hold Israel Matos, Defensive Marksmanship Training Group, the Nail Ranch, and any volunteers and agents harmless from any and all claims, loss, or damage to my personal property, liabilities and costs, including travel to and from the activity (including air travel) or any events incidental to this activity. If Israel Matos, Defensive Marksmanship Training Group, the Nail Ranch, and any volunteers and agents incurs any of these types of expenses, I agree to reimburse them. _______
UNDERSTANDING AND ACKNOWLEDGEMENT
I have read this document, and I am signing it freely. I understand the legal consequences of signing this document, including (a) releasing Israel Matos, Defensive Marksmanship Training Group, the Nail Ranch, and any volunteers and agents from all liability, (b) waiving my right to sue any of them, (c) assuming all risks of participating in this training, including travel to and from the activity (including air travel) or any events incidental to this activity. _______
MEDICAL CONSENT
 If I need medical treatment during, or as a result of my participation in this firearm training class, or as a result from any medical condition (known or unknown), travel to and from the activity (including air travel), or any events incidental to this activity. I agree to be financially responsible for any costs incurred as a result of such treatment. I am aware that Israel Matos, Defensive Marksmanship Training Group, the Nail Ranch, and any volunteers and agents do not provide health or life insurance for me and that I should provide/carry my own health and life insurance. _______
Name (print): _________________________________           Date: _______________
Address: ____________________________________ City: _____________________
State: _________    Driver's License/ID Number: _____________________________
Emergency Contact Name: _______________________________________________
Relationship: ______________________           Phone Number: _________________
Signature: _____________________________________________________________
Reviews