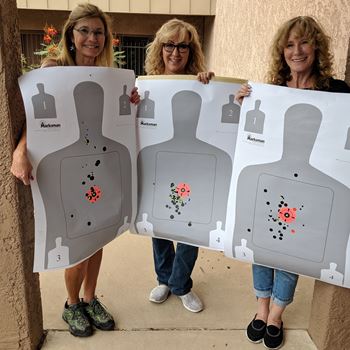 Green Feet firearms Training, LLC
Craig Bergman
BACKGROUND: Former Military, Instructor
46 Years Instructing
PH: 520 370 2239
FAX: 520 290 8171
About Green Feet firearms Training, LLC
The owner/operator of Green Feet Firearms Training llc, Craig Bergman, is a 33+ year USAF Veteran  I have been shooting since I was about 6 years old.  I love to teach and since being around firearms most of my life, I am able to combine these two passions into one. Safe firearms training is a necessity in today's world.
 I served in Vietnam, Desert Storm and Enduring Freedom while in "Tactical Air Command, Strategic Air Command, Special Operations and Combat Search and Rescue.
I am an NRA Certified Instructor, teaching Basic Handgun, Firearms Safety in the Home and Arizona Concealed Carry.  
I am a member of the Arizona Citizens Defense League, United States Concealed Carry Association (USCCA), ConcealedCarry.com, NRA Life Member (Benefactor), and  of Pima Pistol Club.
Courses Taught
CCW, Basic, In Home Defense Training, Women's Only Courses, Seminars / Lectures
Certifications
National Rifle Association certified Range Safety Officer
National Rifle Association certified Pistol Instructor
National Rifle Association certified Fire Safety in the Home instructor
Policies
Cancellation Policy
The cancellation of class must be made no later than 48 hours before the class. 
Reschedule Policy
Once paid, class reservation will be good for 180 days from date of class.
Refund Policy
If a refund is approved, the refund will be less than $10 per student.  This charge is to cover administrative and credit card processing fees.